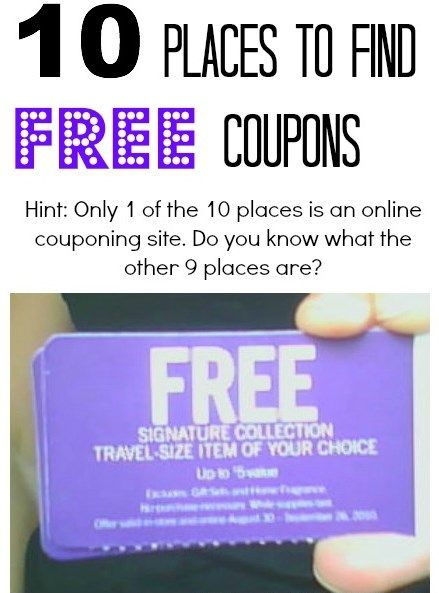 The Sunday paper can be quite expensive. It runs $2 (tax-free) in my area. I still purchase coupon inserts, but honestly, the cost is overwhelming at times, particularly when you`re working your way out of debt. Here are 10 places I find coupons for products and services my family will use.
1. Free Magazines Generally I sign up for free magazine offers. I found $13 worth of coupons for things my family uses in an issue of Better Homes and Gardens!
2. Junk Mail Often within a pile of what looks like junk mail will be coupons for restaurants my family frequent and products we use.
3. Receipt Tape There are of course Catalinas that print out separately from your receipt but don't forget to look at the bottom or top of your receipt for coupons too. Often I find either $5 off $30 purchase coupons or a phone number or website I can call or go to and be rewarded for doing a short survey with a free item or discount.
4. Mailing Lists
In-store point programs like
Finish Line's Winners Circle
, often come with mailing lists that send out high-value coupons to you in the mail. Other stores have no point programs but do send out coupons in the mail like
Joann.
5. Samples
Closet of Free Samples
is a good blog to follow to find free samples. Sign up for those that your family uses, and the majority of the samples will come with coupons.
6. E-mail Lists Make sure you visit each and every website of the stores you love to see if they have an e-mail club you could join that sends out coupons to members. Often they send out valuable and exclusive coupons to their subscribers!
7. Company websites Got a favorite brand of yogurt? Look up the website and see if it has a coupon section. Same goes for ANY company believe it or not!
9. Tear Pads at Stores In some stores these are in front of the product they are for, in others, there are boards full of them found in one central spot of the store. Most are not store exclusive so if you know you will find the product for less at another store, save them.
10. Write your favorite companies: Taking an extra second to either send in a compliment or a complaint to companies can earn you high-value coupons.