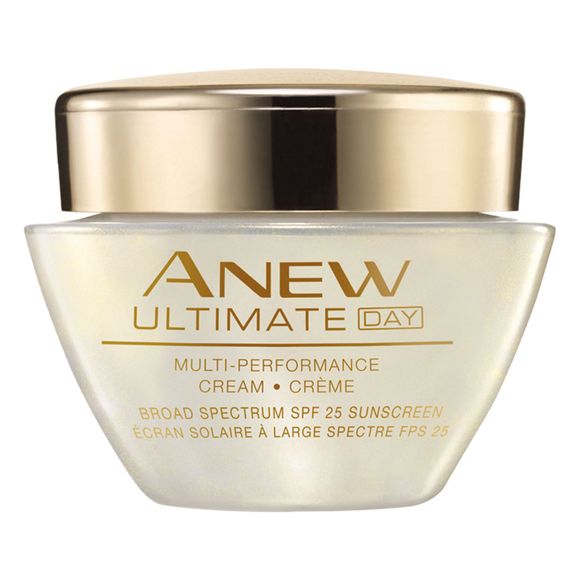 This stuff is highly rated and highly recommended!
Anew Ultimate Multi-Performance Day Cream Broad Spectrum SPF 25 is a high-performance, anti-aging moisturizer that revives and recreates the look of youthful skin by visibly transforming multiple signs of aging. Same great formula as the regular size. Get 50% more than the regular size. 2.5 oz. net wt.
BENEFITS
• 100% of women showed improvement in texture, clarity, uneven skin tone and overall fine wrinkles
• Avon's Celluvive Complex helps eliminate visible age-related damage on the skin's surface, dramatically diminishing the signs of aging
• Formulated to help purify and breathe new life into skin cells by converting skin cells damaged by age into visibly more youthful-acting ones*
• Clinically shown/tested to improve skin firmness
RESULTS
After 4 hours of application:
• Increases skin's moisture up to 209%
In 1 day:
• Makes skin look and feel firmer
In as little as 3 days:
• Eliminates the look of fatigue
• Diminishes the look of lines and wrinkles
In as little as 2 weeks:
• Minimizes the visible skin aging effects such as sagging
• Reinforces and redensifies thinning skin
• Dramatically reduces the look of discolorations and age spots
• Lifts the look of sagging skin
• Improves the look of skin volume
In as little as 4 weeks:
• Dramatically reduces the appearance of wrinkles
• Makes your darkest age spots less noticeable
• Makes age spots look undetectable, even up close
• Lifts and reshapes the appearance of sagging skin for more youthful definition
DETAILS
• Allergy-tested and dermatologist-tested
• Hypoallergenic
• Oil-free, phthalate-free, paraben-free, sulfate-free, petroleum-free
• Vegan
• Non-comedogenic
• Provides essential hydration
• Broad spectrum protection; SPF 25
• Inspired by 50 years of biology research
TO USE
• In the morning, smooth the moisturizer over a cleansed face and neck after the application of eye cream, but before foundation. Apply before sun exposure and as needed. Can be used in combination with other treatments or moisturizers.