You all are familiar with the fact that I review products quite regularly. I`m sure one thing you ask is 
"Do you REALL use all those products you get in to review?" 
Well, yes, I 
use
them, but I don`t always continue using them. Some I do, some just don`t fit into items I need or have much use for. Some I use every once in a great while. Some get passed on to friends and family. Some are saved for "just in case moment" and some are used rather regularly. So I figured I`d share with you some examples of items I received for 
free
that I have been using today.
To start off, I will mention my
Amazfit sleep tracker
(read my initial review 
here
). I have been wearing this every day since getting it to keep track of my walking and sleeping activities. I absolutely love it and it is still holding up! You can even see
how I improved my sleep
since using it! When I wake up, usually after a few minutes, the app will notify me of how much sleep I have had for the night.
Once I get up, I then go use my Keurig (not free) and fix myself a cup of coffee most mornings. Since
trying Volcanica Coffee
, I have fallen in love with their 
Colombian Supremo Coffee
and have been drinking it 
every
morning since it came in. I swear, this brand has the freshest coffee ever! But how did I make it in my Keurig since it`s ground coffee?
I used my 
Fill N Save Elite Series Stainless Steel Reusable K-Cup I had gotten back in 2015 when I was doing Amazon reviews to make it! I have a Keurig 2.0 which gives an "oops" message 50% of the time when you use any pod that is not the Keurig brand. So I have to lift the top and close it multiple times and then I select for it to dispense out hot water; which goes through the pod and makes the coffee. A bit frustrating, but hey, it works!
I drank my coffee from one of my
stainless steel cups
, too! I find I can get more in them, compared to a regular coffee mug, and the flavor seems to just really be better. It`s probably my imagination, but just saying.
After I finished making my coffee I sat down in my chair, which is hard so I use my 
ChiroDoc Coccyx Seat Cushion to make it more comfortable and started checking emails and working on blog posts. So as I sipped away I wrote up my Harry Potter Inspired Winged Keys post.
While on the computer, though, I have been using my 
Team Scorpion X-luca Sleek Gaming Mouse. Ever since trying my first gaming mouse, I`ve been addicted. As a blogger, I found this is more convenient. I love that the buttons on the side can help me go forward or back in the browser. Plus, there`s a scroll button which is basically a must have for me. A mouse without a scroll leaves me feeling empty! 
After finishing the blog post, I checked my 
Tools4Wisdom Planner to see if I had anything specific that I needed to complete for today. I absolutely LOVE this planner (check my review out here). It`s pretty plain, but I went to Michaels and got a bunch of cool stickers to use to make it more colorful and fitting to my taste. That`s one thing I like, it`s plain, but it`so easy to make it your own.
A notable item that I use on a regular basis as well is my 
Casio CGP-700BK 88-Key Digital Grand Piano. Since I first got my piano (see my reviews here: the first review, follow up review), I have been playing around on it a lot. As you can see in my photos at the top of this post, I even bought some piano books. I find playing relaxing and have learned a couple new songs as well! So while I haven`t fooled with it today, it does get used very regularly in my house.
From there I decided I needed to wash my hair and I`m the type who likes to do this during the day since I just let my hair air dry rather than going to bed with it sopping wet. So, of course, I used my 
Suave Professionals Strengthening Shampoo Honey Infusion
and 
Suave Professionals Strengthening Conditioner
, which I got for a CrowdTap item.
I also used the 
Luseta Coconut Milk Shampoo
because I like how it smells and I have no issues combining products when it comes to washing my hair. It seems to work well for me. Then, of course, I washed myself using my
new SoftSoap body wash
I got in just recently.
Once I was done washed up, I brushed my teeth. Now I will confess, from time the time I do this in the shower thanks to my 
Shakoolie - The Original Shower Beer Can Cooler. It holds my extra toothbrush and tube of toothpaste and is just very convenient no matter what time you clean up. I mean, it`s meant for cans, but hey, it works out better this way for my needs!
And of course, since I have a 3-year-old who uses my bathroom, you will notice the 
Bath Toy Organizer hanging in the tub. Yes, this thing still holds up and works great! If your child is like mine and has a lot of bath toys, I recommend having two (like us) and split the toys up. It takes up more room, but too much weight and these things give out. But ever since my original review of this, it`s been doing great!
I dried off using my 
PROCIRCLE Microfiber Yoga Towel since I find these are more absorbent than regular bath towels. It is still holding up just as well as when I first got it after being through many washes so clearly it has been proven worthy of keeping around. 
Once I dried off I went to my 
Beautify Acrylic Cosmetic Makeup Organizer and prepared to put on my skin care products.
Today I used 
Geneva Naturals Anti-Aging Cellular Face Oil with Raspberry, Cranberry, and Blueberry Seed Oil
 . I`ve been noticing just how well this really works, particularly with the fine lines by my eyes. Plus, no greasy or sticky residue left. The downfall? It is pricey for a small bottle, but you only need a small amount anyway so it will last a long time.
(At night I use the 
Geneva Naturals Anti-Aging Retinoid Sleeping Night Oil with Blue Tansy Oil, Chamomile, and Grapeseed Oil
before going to bed.)
While you guys don`t need all 100% of my details, I can tell you that the 
Air Wick V.I.POO Pre-Poo Toilet Spray
is used daily in our home as well. These, too, are pretty expensive for the amount you get, but I feel like they work pretty good. I do find, however, you tend to need more than just 2 or 3 little squirts. Regardless, it works. We even use it if the cats make a smelly bathroom trip! Hey, not needed, but a nice luxury item to have for smelly moments.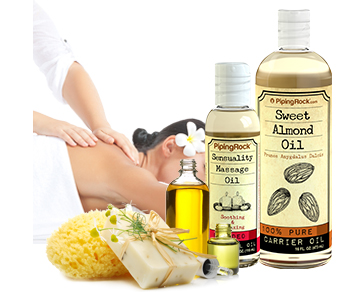 Once done in the bathroom, I selected a couple of
essential oils
from my
Piping Rock
stash and enjoyed the fragrance of them. Today, I used the
Macintosh Apple
mixed with the
lemon essential oil
. I have two diffusers I use as well, the
one in my bedroom
and
one in my bathroom
.
Normally I have my
Himalayan Salt Lamp
on, but the bulb had finally burned out on me over the weekend. Luckily it`s cheap and easy to replace. How well does it work? Well, scientifically I do not know, but I really enjoy having it on and the natural beauty of the lamp. (See my original review 
here
) So as you can see, I use quite a bit of my items quite regularly. There`s even more and I could go on and on, but you get the idea. So yes, even after the reviews, products do get continued to be used in my home if they`re something I enjoy or find useful!