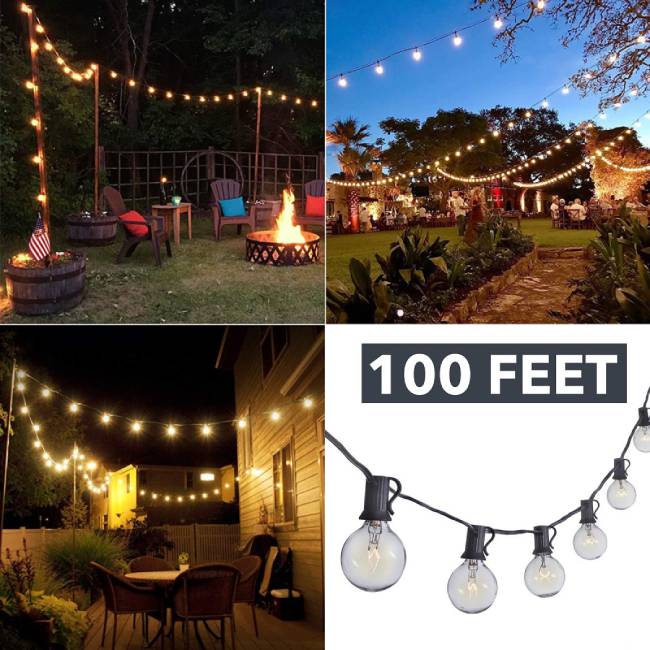 100 Foot 100 Bulb Vintage Globe Outdoor String Lights - Obviously you can use these inside if you really want to :) - Folks, this is a STEAL, a STEEEEEALLL - $60 on amazon with thousands of 5-star reviews (see additional image) - The only reason we are able to offer these this cheap is because it's still Winter. But Spring is only a couple months away, so load up now before you have to pay... gasp.... RETAIL PRICES! - Order 2 or more and SHIPPING IS FREE!
Don't miss out on these lights! Perfect for your outdoor space!
Dimmable Globe String Lights Looking for a way to instantly transform your space? Our Clear Globe Dimmable String Lights create a magical atmosphere in minutes. Our customers absolutely love these durable, versatile string lights. Here's why: A HISTORY OF INNOVATION We are Sterno Home. For you. With you. By your side, every moment. Illuminating your home, bringing light, and warmth to the times of your life that matter most. We are ready when you need us. Keeping safety, beauty, and innovation in mind – Always. Let us celebrate the special moments you make at home with the inspired products we design at Sterno Home. PREMIUM MATERIALS AND SUPERB QUALITY CONTROL Our string lights are made of high-quality rubberized cord and weather-resistant with outstanding quality control. All of our products are extremely durable and are designed for year-round display. This might be the last string light you'll ever need to buy! IDEAL FOR DIY DECORATIONS The bendable design lets you bend, hang, shape, drape, or wrap our lights so you can use them practically anywhere. These lights are compatible with standard incandescent dimmers, letting you customize the amount of light for any setting. Your search for the perfect string lights is finally over!
TRANSFORM YOUR SPACE
These 100-foot string lights create a magical ambiance in your backyard, patio, or any outdoor area. Designed with a durable black rubberized cord and clear glass G40 globe bulbs, the light string is adjustable and easily bendable for installation anywhere. Each strand features 100 bulbs.
COMMERCIAL-GRADE FOR OUTDOOR USE
Heavy-duty lights are weather-resistant and can withstand winds with a flexible cord that's thicker than a traditional rope. This durable construction is ideal for year-round use. Works with 120 volts. These 100-foot string lights are NOT connectable
PERFECT FOR SPECIAL EVENTS
Illuminate and transform your outdoor garden, pool area, gazebo, porch, deck, pergola, wedding, bar, balcony, Halloween party, Christmas tree, or any outdoor party or event.
CUSTOMIZE YOUR LIGHTING
Connect your globe string lights to any standard incandescent dimmer to create the perfect ambiance for your event or space.
INSTALLS IN MINUTES
Use the built-in clips to hang perfectly in any space. A spare fuse is included in the male plug end for added convenience.