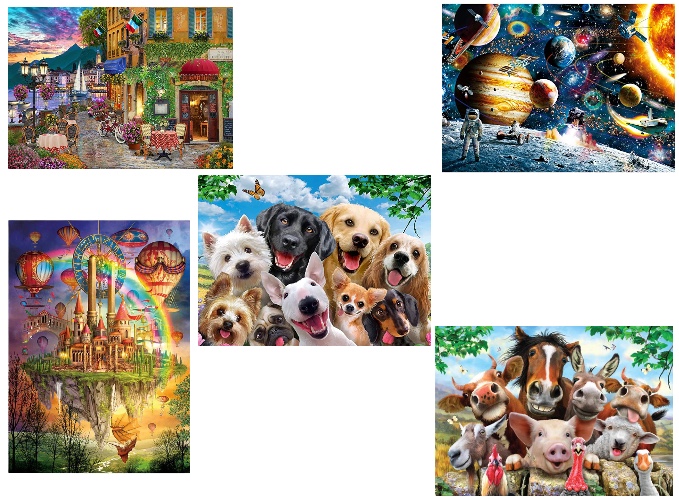 Grab some puzzles while they are on sale!
Well-MADE QUALITY PUZZLES --- The 1000 PIECE JIGSAW PUZZLES are manufactured with 100% recycled paper, thicker than the average puzzle pieces. Compared with other puzzles, it is not easy to fall and tear. It is recommended to save it as a collectible or used as a home decoration.
1000 PIECES PUZZLE ---- The puzzles for adults are include 1000 pieces small parts, each is precision made and a uniquely perfect fit. It could provide you hours of fun and entertainment piecing this incredible jigsaw puzzle together, an ideal pastime for everyone to enjoy. Completed puzzle dimensions: 27.6" x 20"/70*50cm.
EDUCATIONAL & ENTERTAINING --- This set of jigsaw puzzle for kids is made up of 1000 pieces puzzles that display colorful artwork. Puzzle play promotes the development of fine motor skills, problem-solving abilities, and hand-eye coordination.
IDEAL COMPANSION FOR TRAVEL --- This puzzles for adults are stored in a sturdy storage box. Small size is easy to carry, and it is recommended to work with family or friends to help improve parent-child relationships or friendships.
BONUS:
Check out these other
puzzles on sale
while you are here and save some money!
Did you find this post helpful? If so, it would be great if you could show some support by following

Closet of Free Samples on TikTok

(as well as my other social media accounts @closetsamples) and by checking out

my Etsy shop

! As a small creator, all your support makes a difference! Even a simple share of this post to your friends helps! Thanks so much!