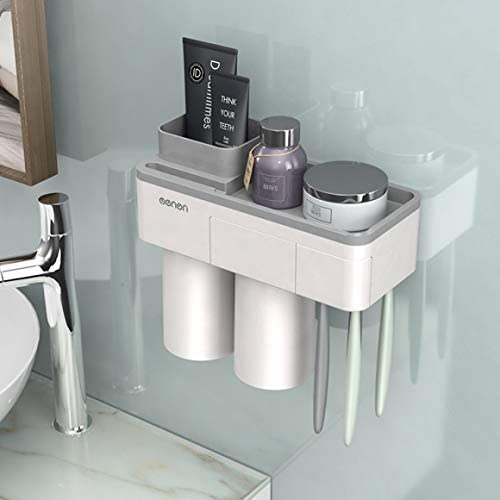 SECRET DEAL - INSTANT EXTRA STORAGE! - Bathroom Wall Caddy - Featuring Magnetic Cup Holder, Toothbrush Holder, Slide Out Drawer and a shelf to store extras! Even a phone slot so you can see your videos while getting ready! No hardware or difficult installation! Have it up within seconds! Choose from 2 cup size or 3 cup size - GREAT for those of us that don't have much storage / counterspace in our bathrooms! - Grab a few for your bathrooms, because order 3 or more and SHIPPING IS FREE!
Features:
Large capacity: keeps small staff in good organization in your bathroom. It takes a little space to mount on the wall.
Magnetic Mouth Storage: Storage of the cups is achieved through the magnet on the bottom of the cup. Easy to store.
Anti-dust design: upside down cup design, works as a dust cover, making the water run out. The opening cap can prevent toothbrushes from dust and keeps toothbrushes dry through the ventilation hole.
HIGH QUALITY MATERIAL: Food grade environmentally friendly ABS material. Non-toxic, odorless and safe.
Easy installation: no drills or nails.
High Bearing Weight: Up to 15.0 lbs, meeting your need to store your toiletries.
LARGE STORAGE SPACE: You can put toothpaste, razor, facial cleanser, and cosmetics on the large counter. Also, the extra drawer is designed to store your lipstick or other small accessories.
Phone holder design: We design a phone holder on the top of the product to put your phone. Add music and color for your morning.
Manage your toiletries efficiently.
There is a leak hole on the top of the counter to ensure quick water drainage and quick drying.
Specifications:
Platform size: 12.5 x 4 inches.
Product Dimensions: 13 '' L x 4.3 '' W x 5.5 '' H.
Weight: 1.3 lbs.
Cup Capacity (11.7 fl oz / 12 oz)
Package Includes:
- 3 magnetic glasses.
- 1 adhesive strip.
Installation steps:
Please install the sticker on a clean smooth wall.
Clean the wall and make the surface dry.
After pasting the sticker, please don't stick the cup holder immediately within 24 hours.
Peel off the heavy-duty glue film. super sangria facility.
Press the film
Install the assembled object on the adhesive without pasting. Once it sticks to the surface, it won't fall off easily.