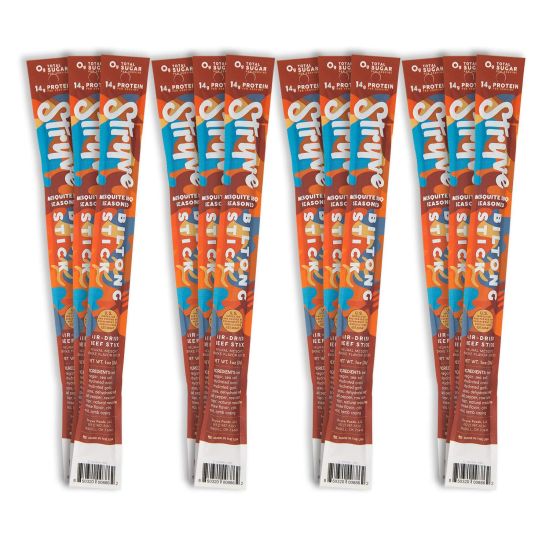 Love beef sticks? Don't miss out on this deal!
STRYVE BILTONG IS BEEF DONE BETTER - Stryve Biltong is 100% beef with no sugar, MSG, nitrates, preservatives and is gluten free. All natural. All flavorful. MORE PROTEIN. NO ADDITIVES. WHOA. - Stryve Biltong is always air dried to lock in flavor and nutrients. Boasting 14g of protein in each serving means it has up to 50% more protein than jerky sticks. You'll never want to go back!
ZERO SUGAR. ALL FUN. - High quality steak is sliced into lean strips and seasoned with one of our signature dry rubs. Then, we air dry it just long enough to ensure every bite is mouthwateringly, deliciously tender. Delivering 0g sugar and 0g carbs in every serving!
GLUTEN-FREE. DAIRY-FREE. SUGAR-FREE. EXTRA FLAVOR-FULL. - Made with a few simple ingredients and full of flavor that's high in protein, has zero sugar, zero carbs, and is made from nothing artificial. Super super keto and other diets-friendly (but also just super delicious).
EASY, CONVENIENT & MEAL PREP-FREE - Training for a triathlon? Commuting to work? Carpooling kids between practices? Our colorful, portable packs are ready to rip, wherever you are. Because hunger doesn't hit only when it's convenient. Grab n go! No meal prep needed!
12 Pack
Mesquite BBQ Flavor
Serving size 1 oz