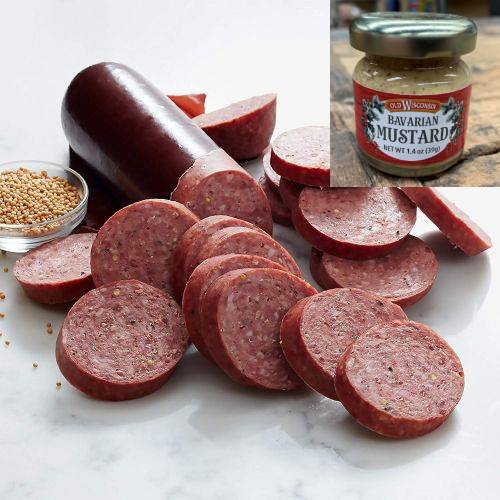 TEMPORARY PRICE DROP! - (GREAT Gift for Meat Lovers!) - THREE Pack of Wisconsin Made All Beef or Turkey Summer Sausages - 10oz each - Nearly 2 POUNDS of Summer Sausage! This is a steal for yourself, parties or as a gift! EVEN BETTER, order 3 or more 3-packs for only $9.99, just $3.33 per HUGE 10oz sausage! YES, you CAN mix flavors to get the discount! This is VERY cheap for Summer Sausage! SHIPS FREE AND IMMEDIATELY!
Wisconsin made
Beef or Turkey Summer Sausage
perfect for anyone who loves sausage, for entertaining or for sending care packages to family and friends near and far.
Product Features
Wisconsin made Beef Summer Sausage is stored in a vaccumed bag to restore the freshness and flavors of the sausage
Sausages comes in a bag to easily wrap or put them in a gift box
Wisconsin made Beef Summer Sausage is made with 100% premium North American beef
Wisconsin made Beef Summer Sausage could be enjoyed with crackers or with cheese
Bet by Feb 2020