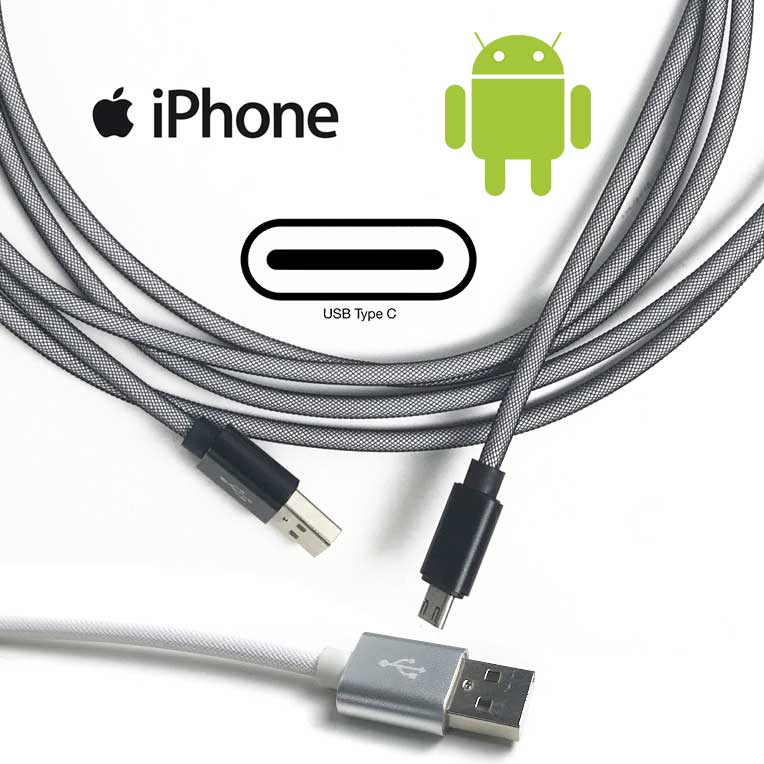 3 PACK of 10 Foot High Speed Armored Charge Cables - Available in iPhone Lightening, Micro USB and USB-C - Extra Long and Extra Durable! No kinking cords! - SEE THE VIDEO! Grab them for every room, the office and the car (they reach the back seat!) - These are $20 EACH in stores, only $4.33 each from us! - SHIPS FREE!
You don't settle for short, fragile cords any longer! These
10 foot long cords
allow you freedom of movement when you're plugged in! And these cords aren't fragile and prone to knotting up like others because they have a protective polymer webbing making sure these cables stay in great shape even when you're not so nice to them. The USB connector and charge port sides are made from sturdy metal which not only looks great, but keeps these cords strong where they typically end up getting damaged. Available in iPhone, Android and the new USB-C connectors. You will randomly receive one of the pictured colors.
Product Features
3 Pack
10 Foot Armored Charge Cables
Available in iPhone, Android and USB-C
Protective polymer webbing making sure these cables stay in great shape even when you're not so nice to them
USB connector and charge port sides are made from sturdy metal
10 foot long cords allow you freedom of movement when your plugged in