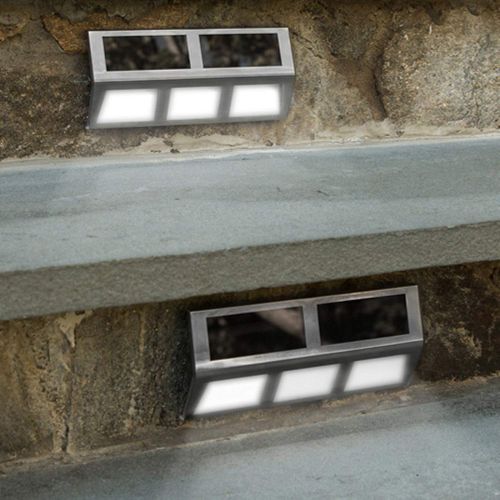 Touch Of ECO's SUNSTEP
solar lights
are weatherproof stainless steel rechargeable solar step lights that feature ultra bright surface mount LEDs and a high performance solar panel. Allowing you to perfectly illuminate your deck, stairs, walkway, or dock. Plus the built in light sensor automatically turns the SUNSTEP on at night and the frosted front plate evenly disperse light so you can see in the dark. Never worry about tripping over wires, cords, or replacing dead batteries again. Simply mount the SUNSTEP horizontally again any flat surface using the provided installation accessories and enjoy over 8 hours of light every night! Each package includes your SUNSTEP, mounting screws, fasteners and pre-installed rechargeable batteries. Plus the SUNSTEP is made of weather resistant solid stainless steel, designed to withstanding years of rain, snow, ice and wind. Putting the SUNSTEP in a league all its own.
High Efficiency Solar Panel
Light Sensor That Turns On Automatically At Night
Weather Resistant & Stainless Steel
Save on Electric with Tiny Footprint!