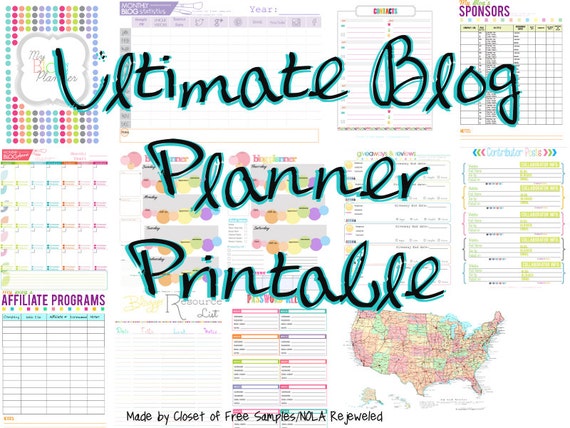 This is the
ULTIMATE printable blog planner
for any blogger. It has 18 different pages and of course you can print it as much as you like. This planner is not dated or marked by month - you fill it in yourself. So no matter when you order it; once you print it, you fill it in to when you need to use it. Also note, I do have copyright on most pages saying Closet of Free Samples.
THIS IS A PDF DOWNLOAD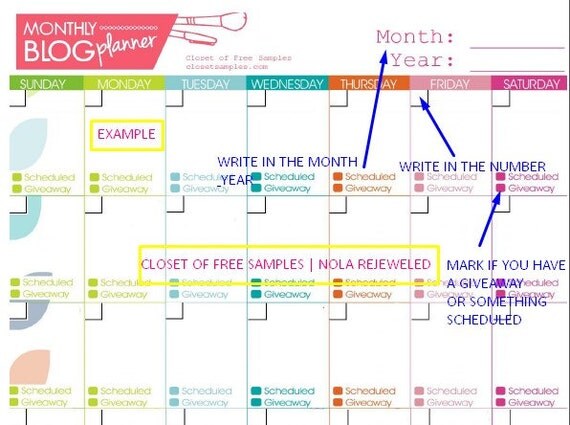 Here`s the pages included:
Cover Page - colorful yet simple
Monthly Blog Stats - Year View

Google PR
Unique Visitors
Bounce Rate
Twitter
Google+
Pinterest
Email Subscribers
YouTube
Instagram
Facebook

Monthly Blogger Checklist
Daily Blogger Checklist
Blog Post Checklist
Blog Conference Checklist
Contacts List

Last, First Name
Address
Phone Number
Mobile Number
email address
Birthday

Blog Sponsors List

Company Name & URL
Paid Amount & Date
Ad Style
Ad Run Dates
Follow Up Email Checkbox
Additional Ad Offer Checkbox
etc.

Monthly Blog Calendar View

Blank Month/Year
Blank Number boxes
Scheduled Checkbox
Giveaway Checkbox
Note Box at bottom

Weekly Calendar View (colorful boxes)

This is just one option for your weekly print out.
Sunday - Saturday
Ideas Box

Detailed Weekly Calendar View (2 pages for full 7 days)

Starts on Sunday - Ends on Saturday
Blank date box
Blank Month Box
Blank Year Box
Each Day has an area to write in:

Date
Bills Due
Appointment
Birthdays
Plus gray area for any notes for the day
To Do Box
Blog Parties Box

Page 1 (Sunday - Wednesday) Features:

Ideas for next week box
Featured Posts Area
Notes Area
Images to Make area

Page 2 (Thursday - Saturday) Features:

Good Ideas Checklist

Backup
Check/Back Links
Design Check
Comment Replies
Check for Updates
Revenue/Expense

Blank Shopping List
To Call List
Weekly Menu (for 7 days)

Giveaways & Reviews List (6 boxes per page)

Blank Date Box
Scheduled Checkbox
Social Media Checkboxes
Company Name
Website
Contact Info
Giveaway End Date
Image Check Box
Link Check Box
Complete Check box
Winner check box

Contributor Posts (5 sections per page)

Website
Post Name
Due By
Posted On
Social Media Check boxes
Blog
Blogger
Email
Scheduled check box
published checkbox

Affiliate Programs List

Company
Web Site
Affiliate #
Username
Notes

Blogger Resource List
Password Keeper (10 boxes per page)

website
username
password
email linked
notes

Colored USA Map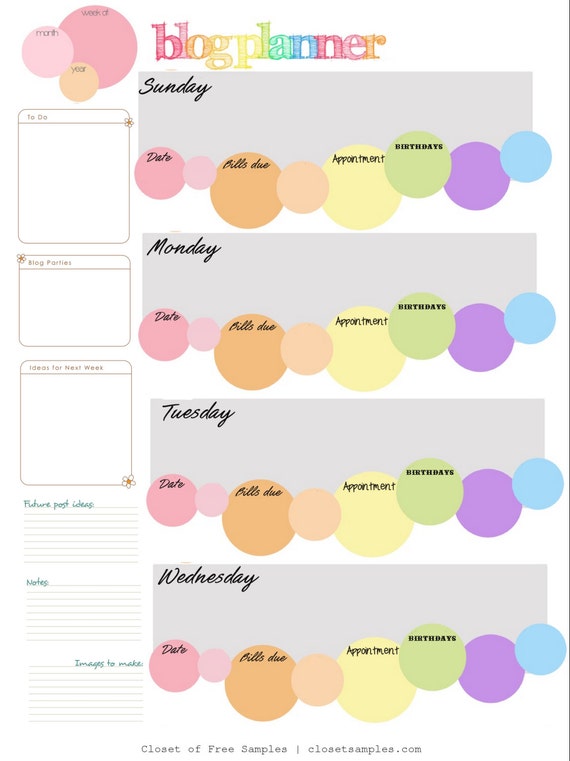 This planner is idea for planning out your blog posts, keeping track of your sponsors and advertisers. If you accept guest post contributions this is excellent to keep track of that as well. The checklists are great reminders to help you get the most out of your blogging experience. This file will open in PDF form showing 253 pages in the standard format to use - providing 18 months pre-formatted. Print the pages according to what you need. For instance, I work with multiple sponsors on my blog so I printed out extra pages (and on front/back) of the giveaway/review pages for my use. So depending on what your personal preferences are I printed out on regular printer paper myself and while it`s not the best quality if you want a durable planner, it does work.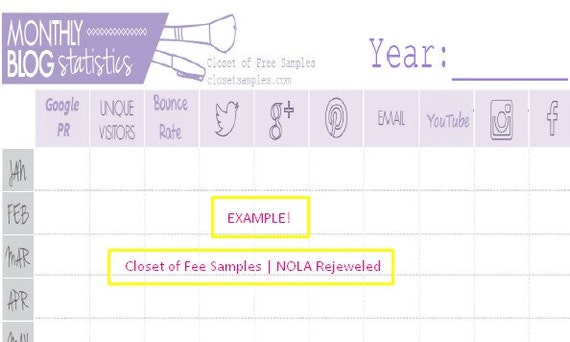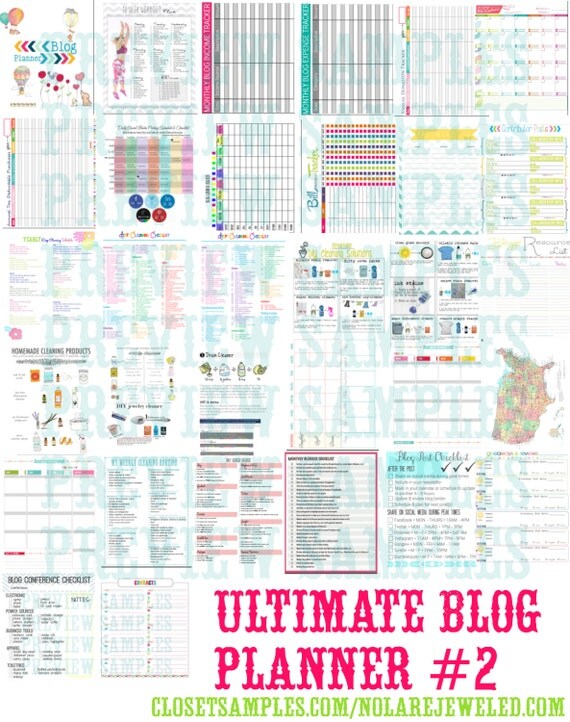 There's a total of 32 different pages that include:
Includes:
10 week workout plan
Monthly Blog Income Tracker
Monthly Blog Expense Tracker
Annual Donation Tracker
Annual Tax Deducatable Purchases
Daily Social Media Posting Schedule
Blog Growth Tracker
Bill Payment Tracker
Password Log
Yearly Deep Cleaning Schedule
Deep Cleaning Checklist
DIY Cleaning Solutions
Homemade Cleaning Products List
Blank Weely Meal Planning
Blank Weekly Planner
My Weekly Cleaning Routine
Daily Blogger Checklist
Monthly Blogger Checklist
Blog Post Checklist
Blog Congerence Checklist
Contacts
Blank Monthly Calendar
Contributor Posts
Giveaway & Reviews Tracker
Blogger Resource List
Colorful US Map