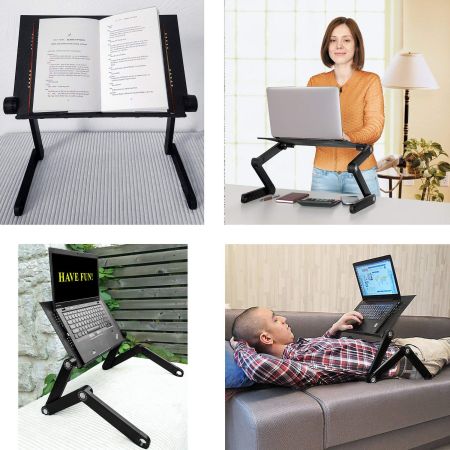 Fully Adjustable Folding Laptop Table - Use on the couch, bed, floor, as a beginner standing desk & more! Fits up to a 17" laptop, but of course you can use it for other things like tablets, food, books and...you know...whatever :) GREAT to watch movies on your laptop in bed too! - Order 2 or more and SHIPPING IS FREE!
Do you work on your laptop often? Do you also get head, neck, or shoulder pains? Did you wish you could change the position of your laptop? If you answered yes, then we have just the right product for you. Our
laptop folding table
allows you to use your laptop in different positions, at different angles for different purposes! Now go ahead and have an enjoyable laptop experience.
Product Features
Lightweight & Sturdy. Our laptop table weighs 1Kg which makes it lightweight and easy to carry along. It is strong too thanks to the high-quality aluminum alloy that it is made out of.
Adjustable. The table has sturdy and fully adjustable legs. You can easily adjust the height of the stand to your convenience to anywhere between 4-48 cm.
Strong table with a strong stopper. The side of the table has stoppers which help you adjust the length of the table as per your needs. Whether you are typing or writing on the table top, the stoppers ensure that the stand and the laptop stay in place.
Elegant Design. You can purchase this laptop stand for the stylish design alone. The manufacturers assembled it with the outlook of a modern office in mind. The color and structure will blend well with any interior design of office space or home
Suits many laptop sizes. Any laptop or tablet within the range of 7 and 17 inches will fit perfectly in the laptop tray. The range covers most of the devices in the market.
Good ventilation. When you use your laptop on a flat surface such as a table, it gets heated because of no ventilation. If you use a stand with cooling fans, that makes noise. Our table offering has ventilation holes built in the table to provide silent yet effective cooling. No noise, no over-heating- just an enjoyable laptop experience.