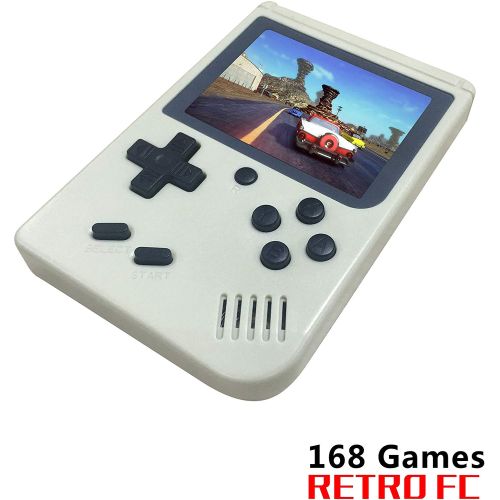 Product Features
The game console has 168 unique FC games, including Super Mario, Contra, Tetris and other classic FC games. Take you back to the fun of childhood.
1. Kung Fu Panda
2. Jackal
3. Rush n Attack
4. Turtle Fighter
5. Turtles 2
6. Silk Worm
7. Captain American
8. Contra
9. Super Contra
10. Contra Force
11. Double Dragon 2
12. Double Dragon 3
13. Hot Blood Story
14. Hot Blood Wrestle
15. Hot Blood Soccer
16. Snow Bros
17. Guerrilla War
18. Chip Dale 1
19. Top Gun Dual Fight
20. World Cup Soccer
21. Tetris 2
22. Tank A1990
23. Street Fighter V
24. Tiny Toon 2
25. Super Mario Bros
26. Super Mario Bros 3
27. Super Mario Bros 6
28. Super Mario 14
29. Adventure Island
30. Adventure Island 2
31. Cross Fire
32. Jackie Chan
33. Jungle Book
34. Juuouki
35. Kick Master
36. Little Nemo Dream
37. Mighty Final Fight
38. Ninja Gaiden 2
39. Ninja Gaiden 3
40. Mitsume Ga Tooru
41. Plants Vs Zombies
42. Power Blade 2
43. Batman
44. Rockman 3
45. Spider Man
46. Tom Jerry
47. Pacmania
48. RBI Baseball
49. 1942
50. 80 Days
51. Adventures Of Dino
52. Adventures Of Lolo
53. Adventures Of Lolo 2
54. Aether Thgher
55. Aladdin 3
56. Angry Bird
57. Argus
58. Arkanoid
59. Astro Robo Sasa
60. Badminton
61. Ballistic Hayhen
62. Baltron
63. Bananna
64. Porter
65. Bicycle Race
66. Bokosuka Wars
67. Bomb
68. Buggy Popper
69. Burai Fighter
70. Bwings
71. Challenger
72. Chinese Chess
73. Chubby Cherub
74. Boat Race
75. Defiance
76. Destry I
77. Dig Dug 2
78. Dough Boy
79. Dragon
80. Dr. Mario
81. Duck
82. Elevator Action
83. Exed Exes
84. F1 Race
85. Family Jockey
86. Fire Dragon
87. Flappy
88. Flipull
89. Football
90. Galg
91. Geimos
92. Goodhand
93. Goonies
94. Gradius
95. Gyrodine
96. Gyromite
97. Gyruss
98. Harry Potter
99. Hassle
100. Hello Kitty
101. Hokutono Ken
102. Hovercraft
103. Hydlide
104. Ice Hockey
105. Keroppi No Diabo
106. Kung Fu
107. Ladangel
108. Lot Lot
109. Mach Rider
110. MagMax
111. Metro Cross
112. Mickey Mouse
113. Mighty Bomb Jack
114. Ms Pac Man
115. Music Moment
116. Ninja 2
117. Pachi Com
118. Pac Land
119. Paperboy
120. Pooyan
121. Power Soccer
122. The Legent Of Ka
123. Circus Charlie
124. Solomon S Key
125. Spartan X
126. TwinBee
127. Donkey Kong
128. Donkey Kong Jr
129. Donkey Kong 3
130. Bomber Man
131. ExciteBike
132. Front Line
133. Galaga
134. Galaxian
135. Lode Runner
136. Lode Runner 2
137. Macross
138. Tennis
139. Ice Climber
140. Dig Dug
141. Pinball
142. Space Invaders
143. Super Chinese
144. Field Combat
145. Spy Hunter
146. Spar
147. Star Force
148. Star Gate
149. Street Frenzy
150. Super Elf
151. Surface Fire
152. Swirl
153. Tactful Monkey
154. TNT (Bomberman with skin)
155. Top Shot (Galaga with skin)
156. UFO Race
157. Under World
158. Urban Champion
159. Village Protector
160. WarpMan
161. Warrior Chase
162. Warship
163. What s up
164. Wrestle
165. Wrestling champion
166. Yie Ar Kung Fu
167. Zero Gravity
168. Zippy Race
Easy to connect the
game console
with TV( AV connector cable is included), enjoy the larger screen gaming experience.
Compact and lightweight handheld game console, mini body, carry it with you. On the way to work, free time, the best choice for a relaxing mood.
The handheld console comes with 600mAh rechargeable lithium battery, more than 6 hours of battery life. When you are on a business trip, traveling, camping, you don't have to worry about running out of power.