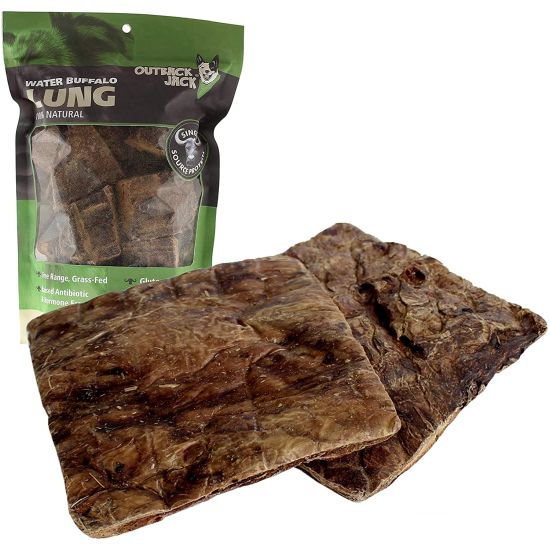 EIGHT BAGS of Outback Jack Water Buffalo Lung Dog Chew Treats - Dogs LOVE these and great alternative to chicken and beef, which many dogs have allergies to! One-ingredient dog treat sourced from grass fed, free range water buffalo. No chemicals. No preservatives. No additives. No hormones - $10 per bag in stores, just $2 per bag from us! Order 2 or more 8-packs and SHIPPING IS FREE!
Outback Jack Water Buffalo lung dog jerky dog treats
are 100% natural, healthy, one-ingredient dog treats suitable for all life stages. When we say our water buffalo lungs are natural, we mean it. The only ingredient in this treat is a water buffalo lung. These highly palatable, high protein treats can be broken into smaller pieces to train, reward, and motivate your dog! Outback Jack water buffalo lungs are sourced from free range, grass fed water buffalo raised without any added hormones for the highest quality chew. Water buffalo contains 14% more protein and 89% less fat than beef for a leaner, healthier dog treat. Our treats are low in fat and contain no chemicals, preservatives, or additives, so you can feel good about treating your dog every day as part of a well- balanced diet. Outback Jack delivers a whole family of products that offer long lasting value and healthy benefits by promoting one-ingredient dog treats. Please supervise your pet while giving a treat or chew.
100% NATURAL DOG TREAT: Outback Jack Water Buffalo lung dog jerky dog treats are a healthy, one-ingredient dog treat sourced from grass fed, free range water buffalo. No chemicals. No preservatives. No additives. No hormones
SUPERIOR QUALITY: Our Water Buffalo lung dog jerky treats are 100% sustainable and processed in human grade facilities with the highest level of standards
HEALTHY GRAIN FREE DOG TREAT: Our Water Buffalo lung dog chews are grain free single source protein that are slow roasted to enhance the flavor and easy to digest for sensitive stomachs
PERFECT DOG TRAINING TREATS: Our jerky is easily broken into smaller pieces making it a great training treat for puppies and adult dogs - feel good about treating your dog every day as part of a balanced diet
WATER BUFFALO BENEFITS: Water Buffalo contains 14% more protein and 89% less fat than beef for a leaner, healthier treat with a great taste that even the most finicky dogs with go crazy for