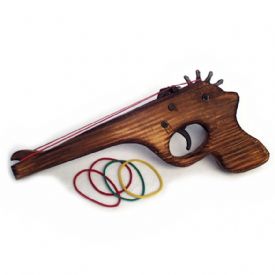 Nostalgia! Nostalgia! Nostalgia! Rubber Band Toy Guns take us back to the good ole days when we chased our siblings around with a rubber band gun! This toy measures 9" x 1" x 4" with a plastic trigger and gear. It comes with 5 rubber bands, of course ammo can be easily replenished with your own rubber bands. Just load and pull the trigger, and send rubber bands flying!
Product Details:
Constructed of solid wood piece
Comes with 5 rubber bands, and will fit most rubber bands that can stretch to the size of the existing rubber bands
Will fire when you pull the trigger
Dimensions: 9" x 1" x 4"
Nostalgic Fun!