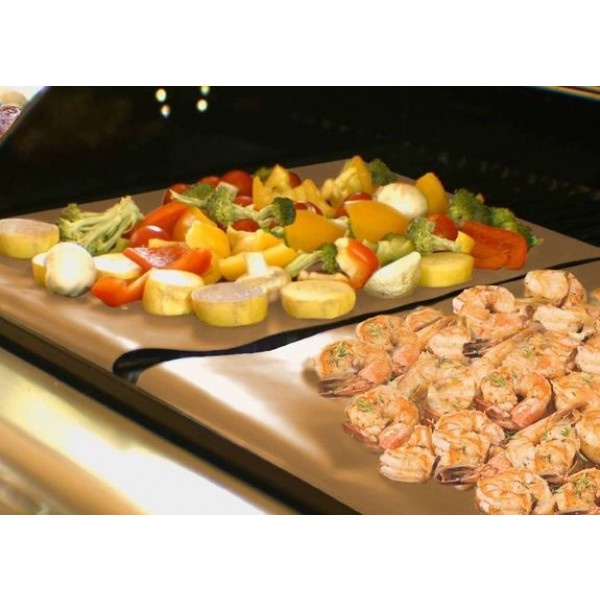 Similar copper mats sell for $19.99 on Amazon!
These
Copper-Infused Grill and Bake Mats
work with any size or type of grill, and will make cooking food easier, and more tasty than ever. These are ideal for when you`re cooking at home and at parks and campgrounds to provide an instantly clean surface to cook on. Instead of BBQ sauce causing food to stick or burn, it will flip over easily to remain intact, and cook to perfection. Includes 2 mats per order.
Product Features
Copper infused
Provide instant, clean surface to cook on
Cooks to perfection evenly and clean up is a breeze
Includes 2 mats per order
???? Get

Cash back

on this purchase by using TopCashBack! Sign up here for FREE! ????
*Tip: Open the TopCashBack link a new window, search for the store, select it and it will open in a new window. Once this happens, you can close that window and continue shopping from where you were. Doing this will log that you are shopping through TopCashBack without losing your place!
Want to Save EVEN More Money? Try these out:

Like Wine? You`ll LOVE these:
????
Winc
: $20 Off Your First Order ????
Plonk Wine Club
????
Cellars Wine Club
????
The California Wine Club
: Save 50% off your first 3 months! ????
Wine of the Month Club:
 FREE Wine Accessory with Every Gift Membership! ????
Wine Awesomeness
: Subscribe now and get a variety 3 pack of wine every month for only $45 ????
Winecrasher
????
Wine2Go
????
Uncorked Adventures: 
15% Off Wine Clubs