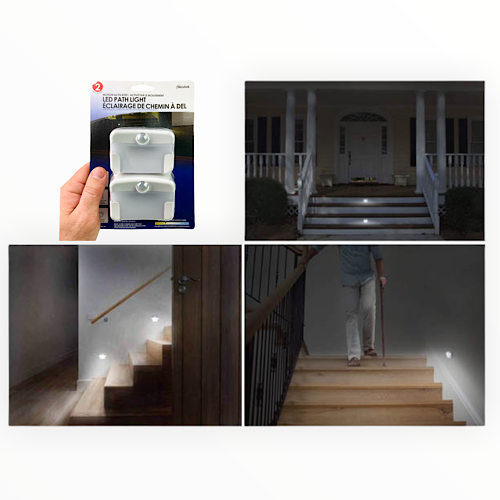 SEE THE VIDEO! - 2 Pack of Westek Outdoor / Indoor Motion Path Lights - Yes you can use indoor and out! Rain / Weatherproof. Use along paths, stairs, hallways or even above doors so you can see to get in to your home (also makes for good security lighting!) - SHIPS FREE!
These lights are so handy!
The Westek Motion Activated path Light is perfect for lighting up those outdoor walkways all around your home. It detects motion from up to 15 feet away to activate the light. Shuts off after 30 seconds to save battery power. It is IP44 outdoor rated and shines 30 lumens. Lasts for 20 hours of continuous use. Will last many months with auto shutoff feature. Also great for indoor use too.
Motion Detector Light: senses motion from up to 15 ft. away and gets activated to provide a clear vision in dim or no-light situations. This path light is equipped with an impressive feature of auto shut-off when no motion is detected to save the battery
Design: this outdoor motion light is specially designed with a convenient cradle that allows easy installation and battery replacement. This light is IP44 rated that makes it water resistant and offers durability
Impeccable Finish: this Westek Light features a semi-glossy white finish that makes it a stylish addition to any decor theme. The motion sensor light plugs into any standard outlet conveniently
Applications: specially designed for outdoor walkways and garden areas, this wireless path light can also be used in an around your home, including bathrooms, bedrooms, hallways, kitchens and nurseries
Specifications: Westek Motion Path Light measures 3. 030 x 2. 17 x 1. 77 in. and runs on 3 AAA batteries. This 40-lumen light has a run time of 12 months on standby and 20 hours when used continuously. It is available in a pack of 2