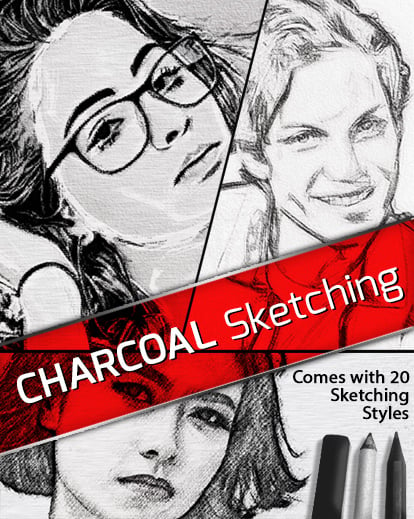 This is such a cool effect for editors to have available!
A good image is made up of so many elements. A very important element of a good image comprises the right amazing photoshop effects. This can sometimes be quite difficult to achieve for some photographers.
Certain photographers have trained themselves on how to easily combine colors and shapes to create amazing concepts but find it hard to create a very good image. This lack of ability to draw sometimes makes it impossible for these photographers to utilize certain opportunities they come across and create masterpiece photo. It becomes a challenge to them. This doesn't have to be the situation with you. This lack of ability to create the perfect image should not be the end of the world for such photographers. They still deserve the opportunity to create stunning images to showcase their skills.
The
20 Incredibly Realistic Charcoal Drawing & Sketching Effects
is a collection of beautiful and realistic charcoal drawing and sketching effects that help to transform an ordinary picture into a masterpiece. These effects are versatile and can be applied to different applications. These special effects can be applied to any image to give them those amazing photoshop effects. It will instantly transform the picture from just a random picture to something very special. You can say goodbye to those stereotype looking pictures.
It can be used with different types of images such as portraits and figure studies. Every amazing photoshop effect is designed to transform pictures into beautiful charcoal drawings utilizing different styles. These charcoal drawings can then be easily printed to produce artistic images, greeting cards or even uploaded to social media pages. Have I caught your attention yet?
The usefulness of these effects makes it a one-stop location to get your bundles of different drawings and sketch styles. It is comprised of different features that make it a top choice to create beautiful charcoal effects.