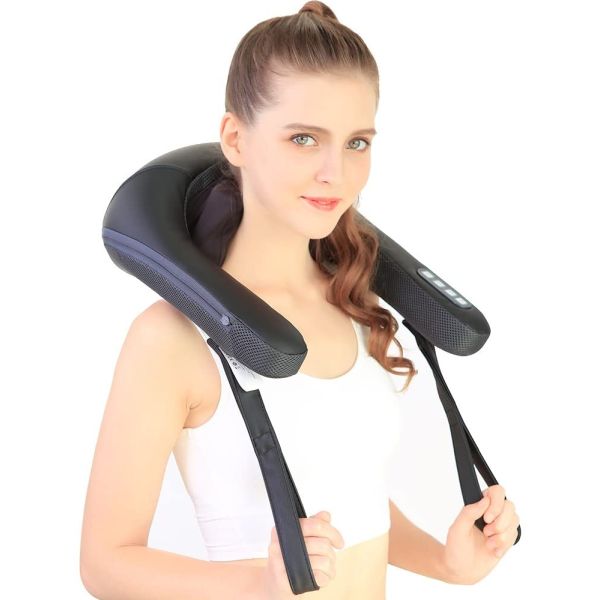 Ergonomic 3D Design: Unique intelligent 3D design, imitates
hand massage
. High flexibility that makes the massage experience easier and more comfortable for your neck, shoulders and back. Safe to touch skin, fabric and delicate surfaces. (Note: It is not a wireless massager, please make sure to connect the device with the included adapter when you use it.)
Ergonomic 3D Design: Unique intelligent 3D design, imitates hand massage. High flexibility that makes the massage experience easier and more comfortable for your neck, shoulders and back. Safe to touch skin, fabric and delicate surfaces. (Note: It is not a wireless massager, please make sure to connect the device with the included adapter when you use it.)
4 kneading rollers and 2 prick nodes - This shiatsu neck and shoulder massager has 4 kneading rollers and 2 pinch nodes. It will knead your neck, shoulder and pinch your upper back at the same time, which is effective in calming neck muscle aches and relieving shoulder and back pain.
Heating capacity: the heating function is available. Improves and promotes blood circulation around the neck, shoulders and back, thus relieving pain and fatigue.
Adjustable modes and speed: 2 powerful massage modes easy to select. The desired speed can be achieved by a simple adjustment. The mode and speedometer will signal simultaneously. It is safe and convenient with an automatic waiting time of 10 minutes.
Ultra quiet function and shutdown protection: the use of high stability DC motor with anti-interference and anti-static capabilities, reduce noise pollution. It will automatically turn off after 10 minutes.