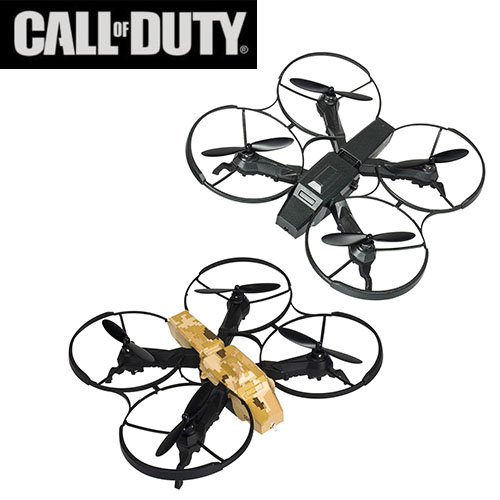 Call of Duty Battle Drone - Fly them, race them, BATTLE EACH OTHER! Aerial 360° Flips, Rolls and Turns - Shoot infrared shots to take down (Literally, after 4 hits, quad will slowly land and shut off) your opponents. Each drone is on a unique channel, meaning you can battle / race an unlimited amount! You will receive a random color of black, desert camo or black camo. - (One unit per order) - SHIPS FREE!
Call of Duty Battling drones
feature an interactive Infra Red recognition lets you get into the action! Battle with unlimited quads. Challenge your friends or any worthy opponent who also has a Call of Duty Battle Drone. After three direct hits each drone will slowly land and shut off indicating defeat! Controlled distances are up to 150 feet and the headless mode allows for precise maneuverability. Keep score of your epic battles and have endless fun with the Call of Duty
Battle Drones
.
6 axis gyro
2.4GHZ RC
Headless mode
360 degree turns, flips and rolls
Battle with a number of unlimited drones
After 4 hits the quad slowly lands and shuts off
3 speeds
Control distance: 150'
Rechargeable drone battery: 3.7V 220 mAh Li-PO battery
Charging time: 40 minutes
Playing time up to 7 minutes
Remote features: 2.4 GHZ, 4 channel
Remote batteries: 4 AA(not included)
No FCC registration required
Minimal assembly required