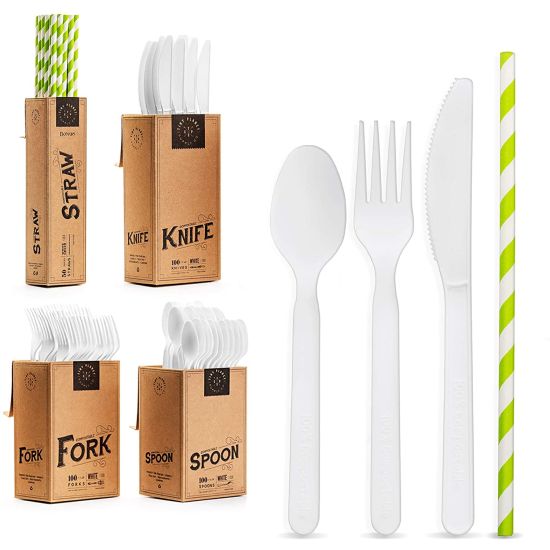 (A "stock up deal"., but very few available) - SECRET DEAL - NOT PLASTIC!! :) - 300 + 50 Piece COMPOSTABLE Disposable Cutlery Set - Made from plant fibers so these actually break down, unlike traditional disposable cutlery! Oh, and of course the health benefit of not eating with plastic - 100 Spoons, 100 Forks,100 Knives AND you get a FREE bonus set of 50 Paper Straws! - Durable and Strong Disposable Cutlery that you can feel good about using! - Order 4 or more and SHIPPING IS FREE!
Don't miss out on this discount!
Are you sick of cheap, flimsy plastic cutlery that can barely handle the food on your plate?
Do you want to REDUCE the amount of HARM caused by plastic pollution entering oceans and ecosystems?
Stand up for sustainability with these environmentally friendly compostable cutlery alternatives from Tiny Planet Supply Co.!
PRODUCT FEATURES:
100 Forks
100 Knives
100 Spoons
CPLA Bioplastic
Sturdy and Durable
100% Compostable in industrial composting facilities (not suitable for home blue bins)
BPA Free
BPI Certified
Includes a BONUS 50 paper straws!
WHAT ARE BIOPLASTICS AND PLA?
Bioplastics are alternatives made from plants or other biological material instead of petroleum. The material we use is renewable polylactic acid (PLA) from cornstarch, which breaks down under certain conditions in industrial composting facilities into harmless natural compounds. The production of PLA uses 65% less energy than conventional plastics, generates 68% fewer greenhouse gases, and contains zero toxins.
REDUCING PLASTIC POLLUTION
After just one single use, most of the 40 billion plastic forks, knives, and spoons are thrown out and end up in landfills and in our waterways. Plastic cutlery is one of those items that won't get recycled even when put in the recycling.
Psst...

I frequently post exclusive deals and coupons on my

Twitter Page

.

Be sure to follow so you don't miss out!