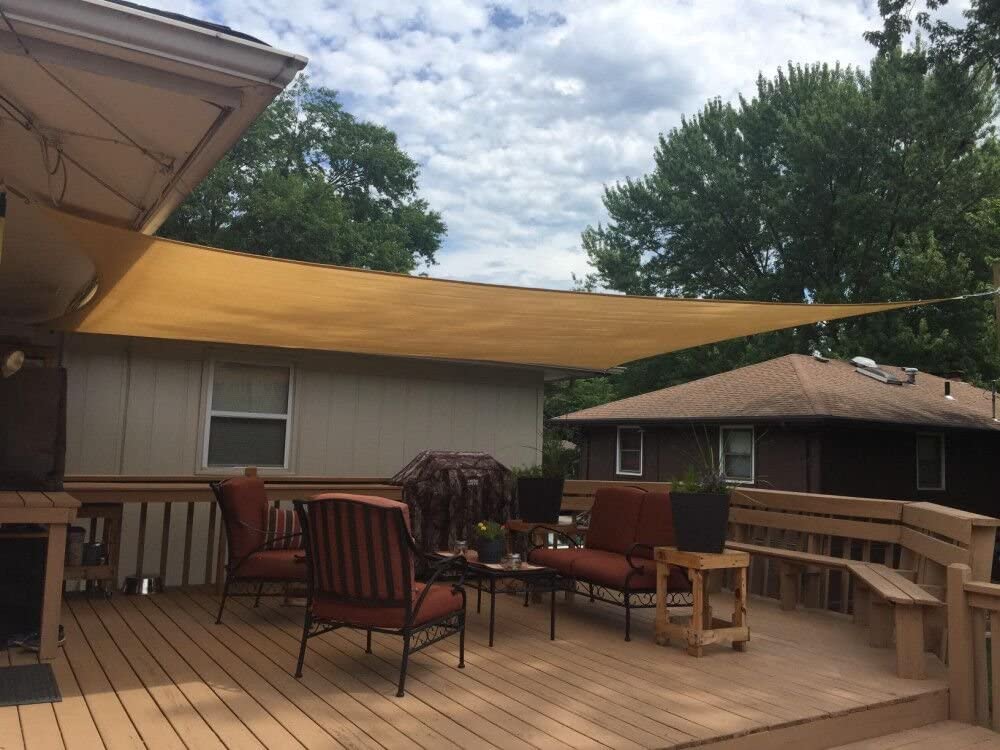 Material: The awning is made of 5.46 oz / yd² high density polyethylene awning fabric with UV protection (100% HDPE) and sturdy seams. Durable stainless steel D-rings at each corner make the sun shade easy to attach to any rugged connection point to provide sun protection and personal design where you need it.
Breathable material design: Allows the refreshing breeze and light to pass to create a more ventilated and comfortable space, allows rain to pass so water does not stagnate. Non waterproof product.
UV Blocking: Protects from harmful UV rays and direct exposure to sunlight. Blocks the sun's damaging rays without trapping the warm air below. The fabric has a breathable high-density block, which effectively reduces heat, blocks up to 95% of UV rays, and protects the skin.
Uses: Widely used in patios, lawns, gardens, swimming pools, barbecue areas, ponds, decks, growing areas, backyards, front yards, parking lots, garages, pergolas, sandboxes, driveways, or other outdoor areas.
Measurements: Measurement is taken from D-ring to D-ring, allows 1.5 to 2 foot space for material set between awning D-ring and mounting points, all edges are slightly curved so stretchable firmly.
Size: 10 x 13 feet.
Package includes: 1 x sail canopy.
Advantage: up to 95% UV protection.
Installation method:
It is installed at an angle of 20 to 40 degrees with maximum tension to allow water to drain.
Triangular awning: Choose two sides higher than the other side.
To facilitate the flow of water during heavy rains and thus extend the time of use.
Tips: Temporarily remove your awning during storms and high winds.