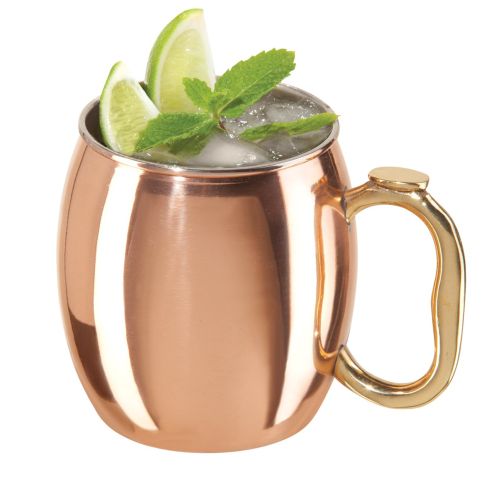 Oggi Moscow Mule Copper Mug with EZ-Grip Handle - You are getting a GREAT deal on these as they MAY have slight imperfections like small scratches etc. They are all new in retail box, but MAY not be perfect. - ORDER 6 OR MORE FOR ONLY $3.99 EACH! SHIPS FREE!
Mix up a classic Moscow Mule in this Oggi
Moscow Mule Mug
. Handcrafted from stainless steel with a copper plated exterior and a easy grip handle, it's the authentic way to serve up this classic vodka cocktail. Hand wash only. Capacity 20 oz. Create your own Moscow Mule at home: Fill your Moscow Mule Mug with ice. Add 2 ounces of vodka, half an ounce of lime juice and top with ginger beer and a sprig of mint. This mug is also ideal for enjoying cool, refreshing drinks year round. The perfect drinking companion for hot summer afternoons, the traditional copper mug becomes chilly to the touch when filled with the iced beverage of your choice. Not for use in the microwave or dishwasher.
Product Features
Stainless steel lining with a copper plated exterior
Capacity 20-ounce
Solid easy grip handle
Wipe clean with warm damp cloth and hand dry clean
Not for use in microwave or dishwasher