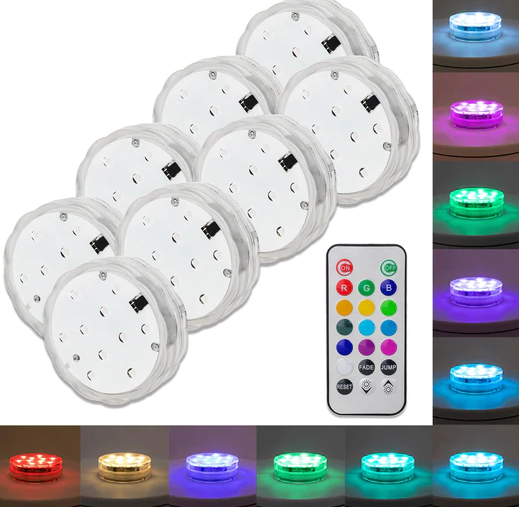 These are perfect for night swimming!
Make your place, your pool, anywhere, a dazzling scene you can change with the push of a button! The LUMN8™ EFX™ Remote-Control accent light is a 'wow-worthy', multi-colored LED light disc that will make your place the talk of the town. Place it anywhere in or around your home; EFX™ is equally as dazzling indoors as it is outdoors.
Because they are battery powered, they are easy to install almost anywhere you want to add accent lighting in a flash.
With 13 colors at your fingertips, 4 dynamic color modes, and variable brightness that adjusts effortlessly with the included remote control, all you need to do is point, click, and color. It's that simple! Drop and dunk these 100% waterproof (IP68 rated) 'glow anywhere' lights in pools, ponds, fountains, hot tubs and vases to give your place a head-turning 'resort hotel' makeover in seconds. Toss them around your garden and inside the house to bring some extra pizzazz to your otherwise monochrome spaces. Whatever way you use the EFX™ light, you can be sure of one thing: Your guests will definitely whisper 'wow' as soon as they see them!
Places to install the LUMN8 EFX LED lights to include:
Hallways
Planters, plants, or gardens
Pools
Ponds, fountains, and other water features
Flower vases, decorative bowls, and similar items
Decks, patios, and other outdoor spaces
BONUS:
Check out these other
lights on sale
while you are here and save some money!
Did you find this post helpful? If so, it would be great if you could show some support by following

Closet of Free Samples on TikTok

(as well as my other social media accounts @closetsamples) and by checking out

my Etsy shop

! As a small creator, all your support makes a difference! Even a simple share of this post to your friends helps! Thanks so much!