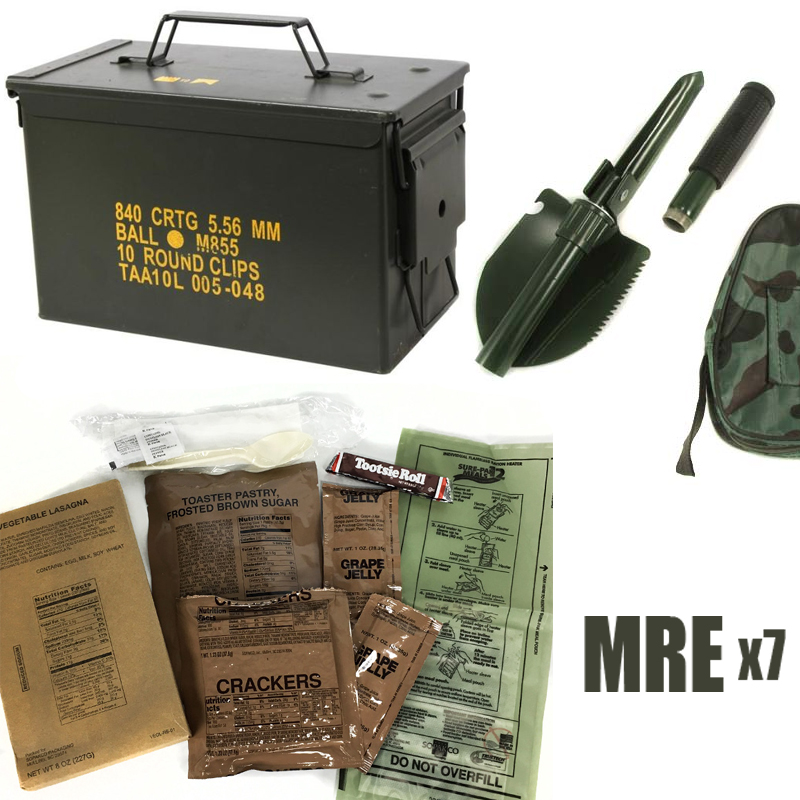 This survival gear package contains gear you need to hunker down and survive. Just $42.49, a 67% off the regularly listed price of $128.46!
Contains all of the following:
7 Pack of MREs (Meal Ready To Eat) Meals - Each Includes a Self Heating System These meals ready to eat are extremely versatile and are made with some of the best components available on the military MRE market. Spaghetti with meat and sauce, Vegetable Lasagna, Beef Ravioli with meat sauce, Cheese Tortellini with tomato sauce, Chili and Macaroni, Sloppy Joe Filling, Asian Style Beef Strips with Vegetables and Chicken Breast with Pasta and Basil. In addition to the aforementioned entrees, each of the 7 kits also comes with the following side items: frosted brown sugar toaster pastry, (2) 1 oz grape jelly packets, Tootsie Roll, crackers, individual flameless ration heater, plastic spoon, paper napkins and seasonings. They don't require water or any kind of hydration and are fully cooked so they can be eaten straight out of the pouch anywhere at any time. Each meal includes a MRE flameless ration heater so you can have a hot meal, moments after opening, anywhere! They have a long shelf life: 3 years for military components and 1 year for commercial components. Both lightweight and waterproof, these MREs are the perfect option for outdoor enthusiasts, emergency preppers or anyone who is planning to be in a situation where they need food on the go.
Military US Surplus 50 Caliber Ammo Case The steel M2A1 Ammunition Can / Box (also called Chest Ammunition: M2A1 or Box, Metal, M2A1) was introduced during the 1950s for .50 caliber machine gun ammunition, replacing the M2 .50 cal. ammunition can / box. Dimensions 11" x 7" x 5.5" (inches). M2A1. This product is GSA Compliant.
Survival Folding Shovel Pick with Pouch This versatile shovel is perfect for camping, survival kits, hiking, small yard work, etc. Lightweight yet sturdy and durable, this compact companion will never let you down! Each shovel has a plastic ridged handle for good grip and can collapse into two pieces (each less than 7 inches) that fits snugly into the camo carrying case that is included.