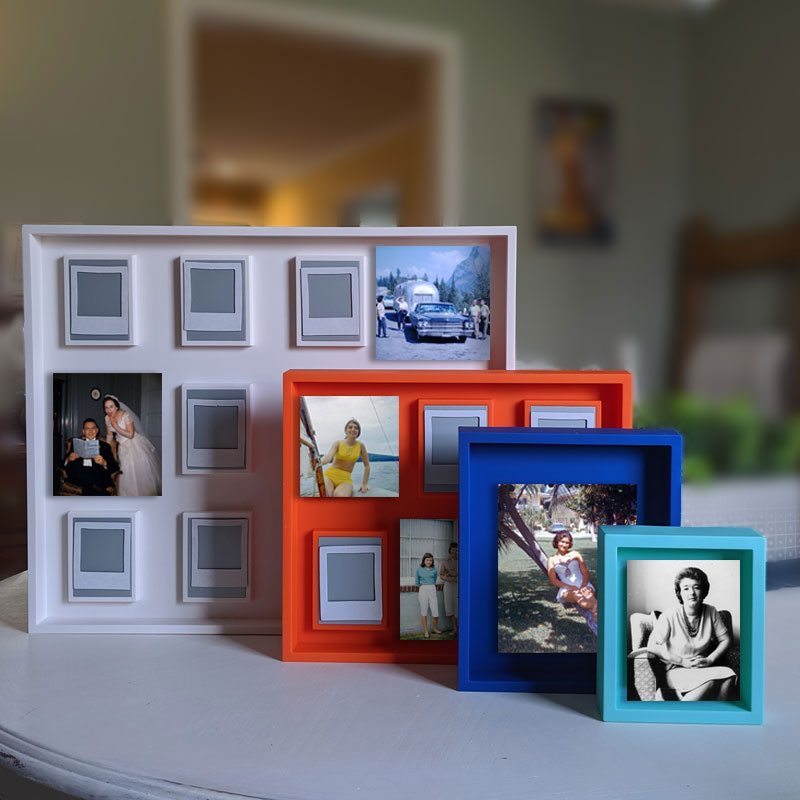 Magnetic Photo Display Shadowboxes by Polaroid - Great For Displaying Photos, Postcards and more! - Lots of Colors and Sizes To Choose From! As high as $48 each in stores, but starting at only $5.49 with free shipping from us! ($5.49 - $15.48) - THIS IS A CRAZY GOOD DEAL ON FRAMES! ALL NEW IN RETAIL PACKAGING! SHIPS FREE!
Display your favorite photos in style
shadowboxes
from Polaroid! As you might have guessed from the name, these do a great job of displaying Polaroids photos but they're also great for regular photos using the included magnetic Polaroid photo frames. You can also display larger photos by using multiple magnets.
These shadow boxes can be stand-alone on any flat surface or mount horizontally or vertically to wall.
These frames are available in:
Small fits 1 photo and measures 5.75" wide x 5" tall x 1.5" deep
Medium fits 1 larger photo and measures 8.5" wide x 7.25" tall x 1.5" deep
Large fits 6 photos and measures 12" wide x 10.5" tall x 1.5" deep
Extra large fits 12 photos and measures 18.75" wide x 15.75" tall x 1.5" deep.
All sizes are available in white, orange, blue, mint, red, fuchsia, green, rustic white, gray and bamboo. All frame are approximately 1.5 inches deep.
Product Features
These frames come in Small - 1 photo , Medium - 1 larger photo, Large - 6 photos and Extra large - 12 photos
All sizes are available in white, orange, blue, mint, red, fuchsia, green, rustic white, gray and bamboo
Each photo slot fits photos from 2.5" x 3.3" up to 3.5" x 4.5"
Display larger photos by using multiple magnets
Peel-off magnets stick to backs of photos to mount
Can stand alone on any flat surface, or on wall
Holes allow it to hang vertically or horizontally Molded plastic in bright colors, metal centers