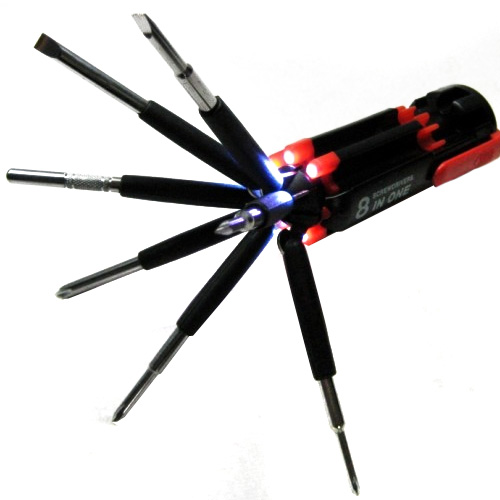 $5 DEAL (Or Less) - 8 in 1 Multi-Screwdriver With Built-In Flashlight - Pretty much one of the handiest tools ever - Order 6 or more for just $4.49 each! SHIPS FREE
Sure, there are plenty of screwdrivers at your local Home Depot with changeable bits, but this one's quick-foldout design cleverly incorporates each driver into its handle. Each blade is magnetized to hang onto that screw, and that driver-packing handle still gives you a good grip while the driver you're using is locked into place.
Product Features:
Integrated torch for use on it's own or to illuminate working area when using the screwdrivers.
Magnetic CRV steel alloy heads
Extra heavy duty screwdriver locking mechanism.
Electrically insulated heavy duty handle & screwdriver stems.
Handy clothes clip.
Lightweight compact design.
Uses 3 AAA batteries (not included).
LED powerful torch.