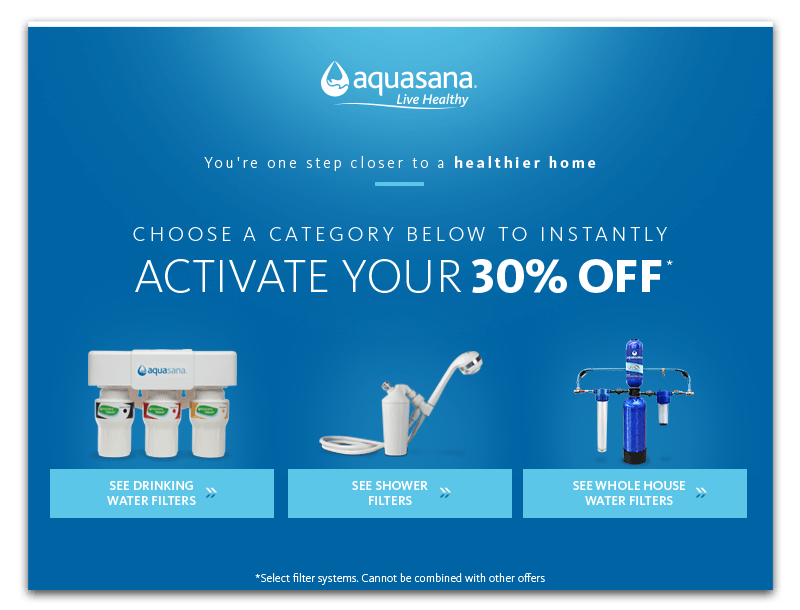 Don`t miss out on this limited time sale! 

Save 50% off Select Drinking Water Filter Systems at Aquasana! Use Code:

AFFDW50

, Valid now through

1/31/17

.

Water is essential for life. Our bodies are more than 70% water and designed to run primarily on water and minerals. The water we drink, shower in and cook with can have a significant impact on our overall health. Aquasana Drinking Water Filters use best-in-class filtering technology to provide maximum reduction in water contaminants while leaving beneficial minerals such as calcium, magnesium and potassium in the water. The result is healthy, great-tasting water that provides optimum hydration for the human body. Our drinking water filters are NSF Certified to reduce 66 common water contaminants including over 96% of chlorine and chloramines as well as over 99% of lead, asbestos, turbidity and VOCs. Aquasana is committed to staying at the forefront of water filtration engineering and innovation. As a result, our customers benefit from a variety of high performance products that are affordable and safe for the environment.
???? Get

Cash back

on this purchase by using TopCashBack! Sign up here for FREE!
*Tip: Open the TopCashBack link a new window, search for the store, select it and it will open in a new window. Once this happens, you can close that window and continue shopping from where you were. Doing this will log that you are shopping through TopCashBack without losing your place!
???? Want to Save More Money? Try these out: