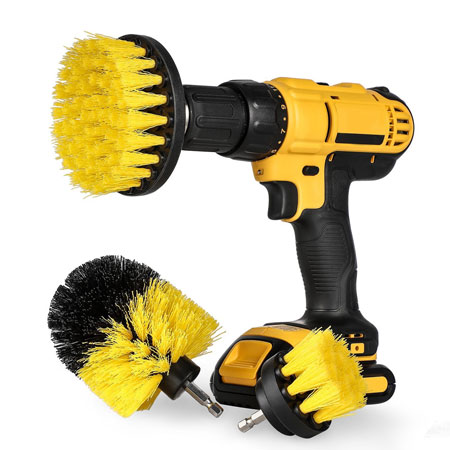 TEMPORARY PRICE DROP - ONLY $5.99 WHEN YOU ORDER 6 OR MORE! SEE THE VIDEO! 3 Piece Scrub Brush Drill Attachment Kit - All purpose power scrubber for those tough to clean places! Great for kitchens, bathrooms, tile, grout, and washing your car! Tons of great reviews on Amazon! - THE MOST POPULAR item we've offered in 2019!
Three piece
power scrub brush kit
is designed for use with most cordless drills. Durable high quality nylon bristles are great for scrubbing and cleaning fiberglass, porcelain, linoleum, tile and grout. Brush have a quick change shaft which will allow it to fit into your impact driver or cordless drill. Perfect kit for bathroom cleaning. These brushes should cut your cleaning and scrubbing time in half or more compared to the rigorous effort involved in hand scrubbing. Drill is not included.
Product Features
This drill brush attachment set contains 3 brushes with different sizes and shapes to fit into most of the cordless drills, such as Dewalt, Bosch and Makita etc.
These nylon bristles will not scratch and can be used for cleaning bathtub, grout, bathroom surface, floor, tile, shower, toilet and carpet etc.
Using this power scrubber brush will save you time especially if you want a deep clean on your bathroom.
Convenient to use - All three brushes have quarter inch quick change shafts, this allows the brushes to fit in all cordless drills and impact drivers.
Drill brush Set includes: 3 different medium stiffness all purpose bristles. High quality molded brushes proven and tested. *2inch round brush *4inch round brush *3.5inch cone brush.
DRILL IS NOT INCLUDED