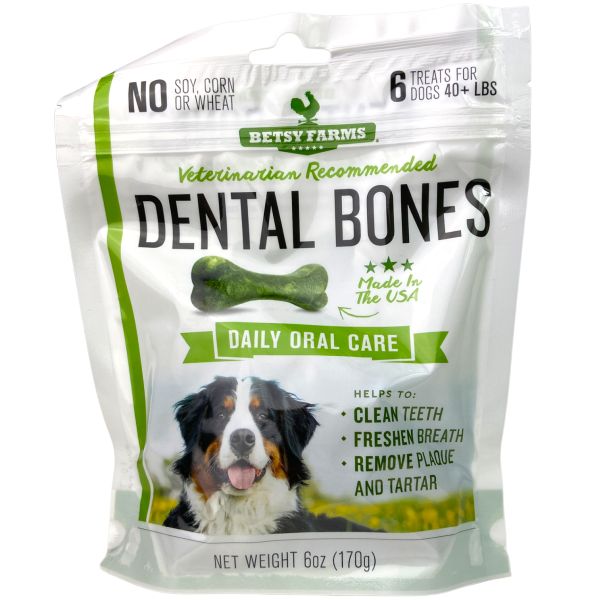 6 BAGS of Betsy Farms Dog Dental Bone Treats - COMPARE TO GREENIES! - Medium / Large Dogs - Freshens Breath, Cleans Teeth and Removes Plaque / Tartar - $10 per bag in stores, but you're getting SIX BAGS from us for just $17.94, just $2.99 per bag! - MADE IN THE USA - It is INCREDIBLY important for dogs to maintain good dental health, and that's hard with them refusing to brush their teeth after every meal - GREAT deal because they are "best by" end of Jan 2023, but we all know they will be good long, long after that - Order 2 or more 6-packs and SHIPPING IS FREE!
Stock up on some dog treats while it's on sale!
FRESHENS BREATH: dental treats for dogs contains NO WHEAT, CORN, OR SOY. These dog breath treats contain five (5) breath fresheners alfalfa, parsley, fennel dill, and peppermint.
HELP CLEAN TEETH: dog teeth cleaning treats feature a unique shape and texture that rubs teeth clean, while your dog chews.
REMOVE PLAQUE AND TARTAR: Chewing Dog Dental Treats help dogs chew away plaque build-up and control tartar. This helps keep your dog's teeth healthy and clean.
PROMOTE GOOD DOG ORAL HEALTH: Using dog dental chews daily helps promote oral health and freshens your dog's breath.
═════════════════════════════════
PROMOTE YOUR BRAND WITH US!
═════════════════════════════════
Want to showcase your product to the Closet of Free Samples audience? Then check out my available advertising options and email me at

This email address is being protected from spambots. You need JavaScript enabled to view it.

to discuss!
═════════════════════════════════
FOLLOW CFS ON SOCIAL MEDIA
═════════════════════════════════