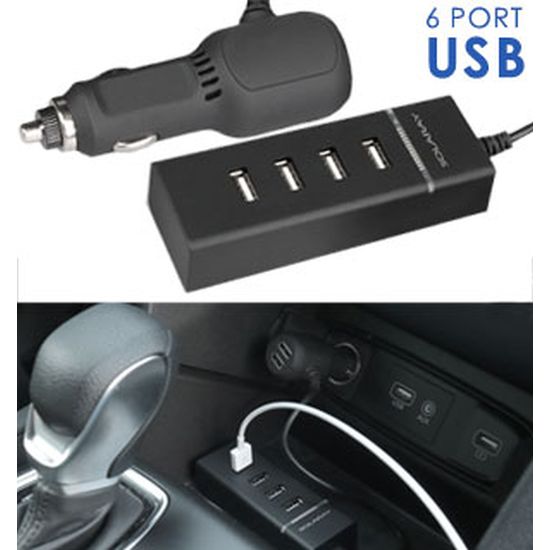 SECRET DEAL - 6-Port USB Car Front & Back Seat High Speed Charger - Provides HIGH SPEED charging in the font AND in the back seat at the same time! No more fighting over charge ports! Featuring a plug with 2 USB ports for front seat charging and a 5 foot cord ending in a 4 USB port hub allowing for charging in the back seat, and again ALL IN HIGH SPEED! GREAT for road trips and more! - Order 2 or more and SHIPPING IS FREE!
This is a must-have for the car!
Extend Your Power to the Back Seat! Keep every one of your car's passengers charged up with any of their USB-enabled devices! This 6 Port Car Charger W/ Backseat Extender has everything you need for efficient charging while you're on the road.
2 USB inputs in the front seat, 4 USB inputs in the back seat!
Simply plug the charger into your vehicle's cigarette lighter. The DC plug features 2 USB inputs with a shared 4.8A for front seat passengers. This will help keep your phones charged for navigating, listening to music, and making calls. And best of all, no more worrying about a dead or dying phone!
- Use 6 Standard USB Ports for Charging Devices
- Charge Phones, Game Systems, Tablets, iPads, etc.
- Keeps Kids Entertained
- Helps Make Road Trips Bearable
- Plugs into DC (Cigarette Lighter)
- Input: 12-24 Volts
- DC Output: 2 x 2.4A (4.8A)
- 4 Port Output: 4 x 2.4A (9.6A)
- Cable Length: 1.5M (5ft.)
- Color: Black
- Perfect for road trips, long commutes, and more
Psst...

I frequently post exclusive deals and coupons on my

Twitter Page

.

Be sure to follow so you don't miss out!