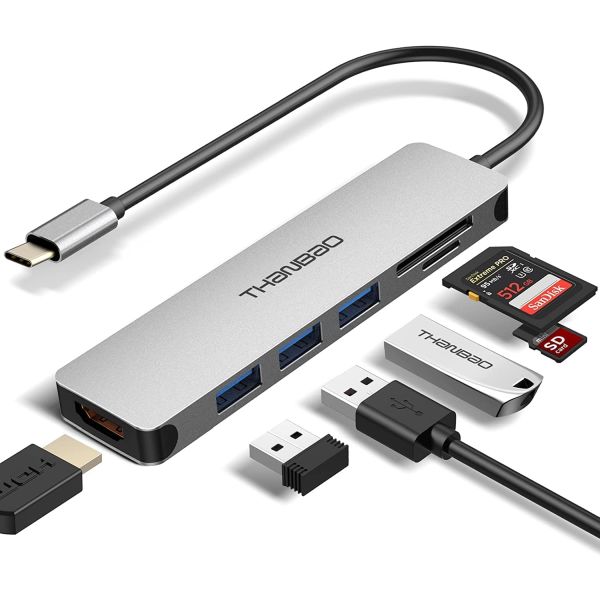 USB Hub Multiport Adapter - 7 in 1 Aluminum USB / Media Hub with 4K HDMI Output, - 3 USB 3.0 Ports, SD/TF Card Reader Compatible and HDMI port. - What all this means if you can use this as a USB hub to transfer stuff AND to use it to project media to your TV and projector from your devices! VERY cool! Unlock things you didn't know your tech could do! BONUS: Because this is new USB-C tech, we include a FREE adapter just in case you want to use this with a standard USB device. This way you are covered no matter what! These hubs are $25 on amazon with thousands of 5-star reviews (see additional image) but only $9.99 from us AND we give you the free USB-C adapter and they don't :) - Order 2 or more and SHIPPING IS FREE!
Introducing the
7-in-1 Aluminum USB / Media Hub
- the ultimate tech companion that unlocks the full potential of your devices! And the best part? It's available for an incredible price of just $9.99,
down 67%
from its regular price of $29.99. This is a deal you don't want to miss!
This versatile USB hub multiport adapter is a game-changer. With its 7 in 1 design, it offers an array of features that will revolutionize your tech experience. Let's dive into what makes this hub so remarkable.
First and foremost, it serves as a powerful USB hub, allowing you to easily transfer files and connect multiple devices simultaneously. Say goodbye to the hassle of limited USB ports. With 3 high-speed USB 3.0 ports, you'll experience lightning-fast syncing and file sharing.
But that's not all. The 7 in 1 Aluminum USB / Media Hub takes things a step further by transforming into a media powerhouse. Thanks to the 4K HDMI output, you can now project your favorite movies, videos, and presentations onto your TV or projector. Immerse yourself in stunning 4K UHD or Full HD 1080p visuals, bringing your entertainment to life like never before.
What sets this hub apart is its compatibility and convenience. Whether you're using a USB-C device or a standard USB device, we've got you covered. We even include a FREE adapter, so you can enjoy the benefits of this new USB-C technology with any device.
The 7 in 1 Aluminum USB / Media Hub is not only feature-packed but also highly portable. Its sleek and compact design allows it to easily fit into your laptop sleeve, bag, or pocket, making it perfect for on-the-go lifestyles. Plus, the premium space aluminum shell ensures durability and acts as a heat dissipation mechanism, keeping you and your devices safe.
We understand the importance of data security and device protection. That's why this hub is equipped with smart temperature control and multiple protection systems, preventing issues like over-current, over-voltage, short circuit, and high-temperature. Your peace of mind is our priority.
Don't miss out on this incredible deal. The 7 in 1 Aluminum USB / Media Hub is priced at just $9.99, with a FREE USB-C adapter included. Similar hubs on Amazon are selling for $25, but they don't offer the same value and convenience. Plus, if you order 2 or more, we'll even cover the shipping costs!
🌟 If you like Amazon deals & coupon codes join my Telegram Channel (It's FREE!)! 👉 Sign up here!
═════════════════════════════════
PROMOTE YOUR BRAND WITH US!
═════════════════════════════════
Want to showcase your product to the Closet of Free Samples audience? Then check out my available advertising options and email me at

This email address is being protected from spambots. You need JavaScript enabled to view it.

to discuss!
═════════════════════════════════
FOLLOW CFS ON SOCIAL MEDIA
═════════════════════════════════