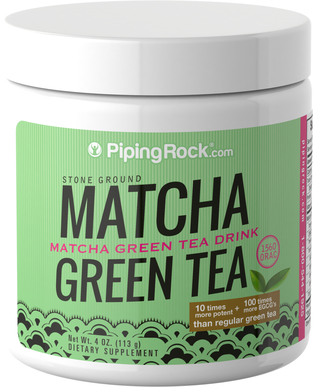 Not a bad deal!
Potent Nutrition in Each Glass
Green tea
has historically been a staple of traditional Asian culture, used for ceremonies and simple day-to-day life. It's distinct taste has made it a popular choice for many across the globe, and now you can enjoy the wonders of matcha with our easy-to-use Green Tea Matcha Powder!
Matcha naturally contains catechines, EGCG, and tannins, in addition to caffeine and amino acids. A serving can help support mild steady energy, making it perfect for focusing on work, meditation or play. Vibrant green in color, Matcha tea has a pleasing aroma and a rich full-bodied taste.
Directions for Use
One of the best things about powdered Matcha is its ability to be used in numerous
recipes
! Add this versatile powder to your smoothies, lattes or even baked goods, or simply enjoy on its own. For traditional tea, mix 2 teaspoons (about 5 grams) into 6-8 ounces of hot water and blend well.