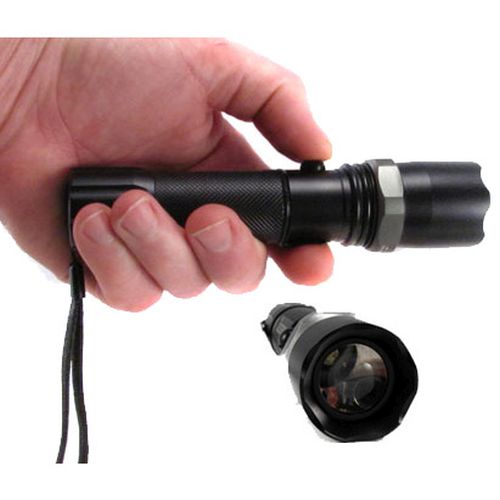 Made from aluminum alloy, this LED flashlight is both waterproof and shockproof. The Luxeon 3 watt LED bulb will last up to 100,000 hours. A rechargeable battery is included along with a wall and car charger as well as a battery pack that holds 3 AAA batteries and can be used in place of the rechargeable battery. The flashlights focus can be zoomed in or out with a rotation of the head. A warning flash function is included for use in emergency situations.
Product Features
3 Modes: High-Beam, Low-Beam, and Strobe Mode
Rechargeable, or use 3 AA batteries
Wall charger and car charger included
Rechargeable battery included
Zoom focus
Waterproof
Shockproof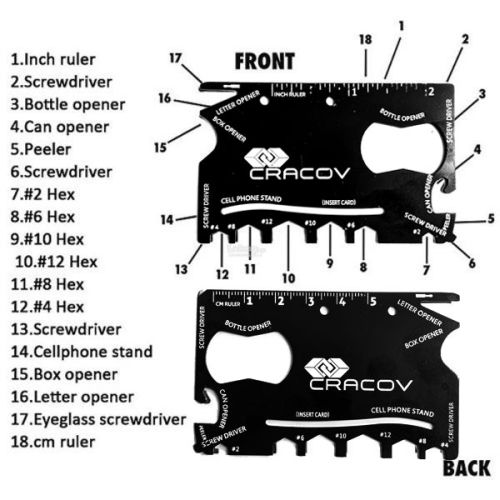 The size of a credit card but packed with 18 useful, tools you'll find yourself using every day! This perfectly flat multi-tool packs six wrenches, four screwdrivers, two rulers, a cellphone stand, a bottle opener, a can opener, a letter opener, a box cutter, and a fruit peeler into a single piece of steel the size of a credit card. It's also TSA approved so no worries about taking it with you! Made from 4X heat-treated steel, you won't even know it's there until you need it.
Product Features
ShockproofDimensions: 3.25" x 2.125" x 0.06" (size of a credit card)
ShockproofMaterial: 4X heat treated steel
Shockproof1.5mm thick, completely flat
ShockproofFits in your wallet
ShockproofIncludes 18 tools
ShockproofLifetime guarantee to never rust, bend, or dull
ShockproofTSA approved for carry-on during flight
ShockproofWorks as a cellphone stand