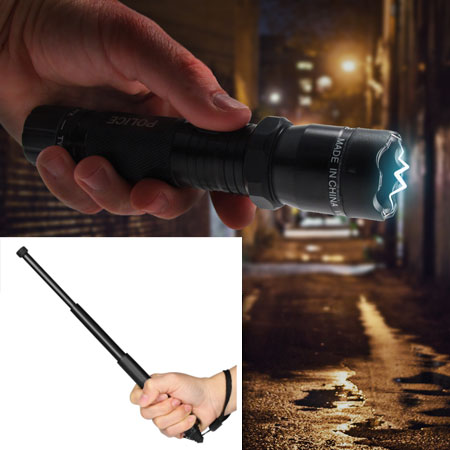 SECRET DEAL - Self Defense Must-Haves (These are harder and harder to get!) - Aluminum Rechargeable LED Flashlight With Built-In Stun Gun, Black / Pink Square Stun Guns or Retractable Metal Baton - Simple, discrete, and effective self defense tools for you and your loved ones! Grab one of each for yourself & anyone you think may need protection! - Starting at $8.99! (Baton $8.99, Square Stun Guns $11.99, Stun Gun Flashlight $12.98) - $3.89 unlimited shipping, but if you order 4 or more total items (yes you can mix items), and SHIPPING IS FREE!
When it comes to defending yourself from an attacker, you can't afford not to stay prepared with
these self-defense tools
. Equip yourself with these portable and discreet tools that can help you defend yourself should you find yourself in the wrong place at the wrong time.
Aluminum Stun Gun Flashlight Product Features
4.5 Million volt Stun Gun and 160 Lumen Flashlight
Constructed from aircraft aluminum
Super bright LED flashlight
NOT A TOY- This powerful stun gun for self protection and peace-of-mind
Built in rechargeable battery recharges with the included charger (plugs directly in to rear of flashlight)
Retractable Baton Product Features
Used by the biggest police forces from around the globe
Measures 16" when fully extended and 5 3/8" when retracted
Comes with a Nylon Case that can be attached to a belt or fit easily in a purse.