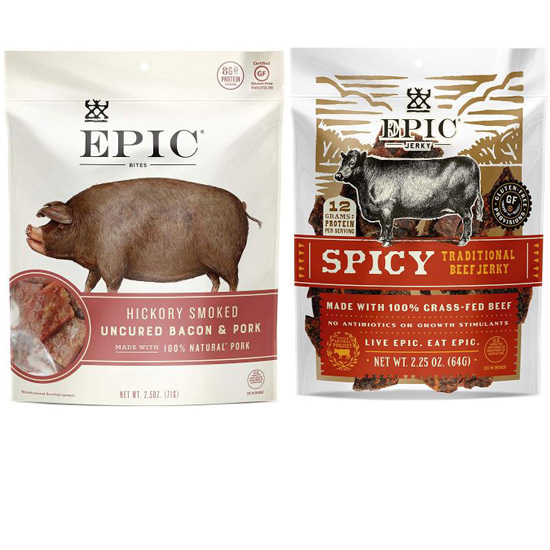 Our hickory bacon bites are a game changing snack that allows you to enter bacon bliss at all times of the day. A staple food around the epic world HQ, bacon is used like currency. We exchange it as gifts, bribes, and rewards for monumental achievement. In efforts to make this world a better place, we worked to create a clean, delicious, portable bacon that can be enjoyed anywhere and anytime.
Product Features
PROTEIN SNACK: 8 grams of protein per serving
HORMONE FREE: Animals never treated with growth hormones or stimulants
0 grams of carbs per serving
WHOLE 30: Made with Whole30 compliant ingredients
Best by 12/05
What makes EPIC traditional beef jerky special starts with a foundational commitment to sourcing only 100% pasture-raised, grass-fed beef. Our Spicy Beef Jerky is thoughtfully crafted with pure ingredients that are not only flavorful but uniquely simple and powerful. We experimented with hundreds of spice combinations to land one that produces an ideal balance of fire and flavor, a flavor-forward experience we deem EPIC!
PROTEIN SNACK: traditional jerky featuring 100% grass-feed beef and a spicy spice blend with 12 grams of protein per serving
CONVENIENT: This jerky comes in a resealable pouch, which makes it perfect for sharing and snacking throughout the day
G100% grass-fed beef
Gluten-Free, Paleo friendly
2.25oz jerky pouches
Best by 11/28