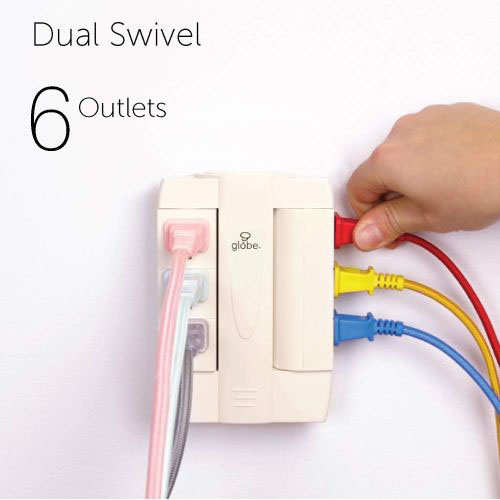 GE 6-Outlet Swivel Side-Entry Adapter With Built-In Surge Protector - Saves space (push furniture etc right up against the wall without blocking outlet), gets those cords off the floor, AND protects your electronics!! - Incredible deal because you will receive white, cream or black at random -These are incredibly useful, so grab one for each room in your home / office! - Order 4 or more and SHIPPING IS FREE & IMMEDIATE!
Everyone needs a smart way to plug-in home electronics and Globe Electric's Original Space Saving
6-Outlet Swivel Wall Adapter
Tap is the answer to your needs! Two 90-degree rotating sides allows six items to be plugged in and then moved so your couch, chair, or bed can sit right against the wall. Perfect to use with your computer, printer, smartphone, tablet, home theatre system, lamps, and more, you'll never need another tap.
Product Features
SPACE SAVING SWIVEL DESIGN: the space saving swivel design is ideal for indoor use, tidying up cords in your home and office, and helps your furniture sit flat against your wall