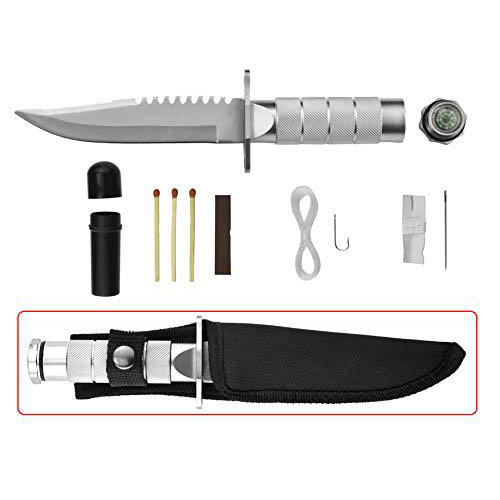 On your next camping, hiking or outdoor Adventure, be prepared for the unexpected with our 8"
survival knife
with a double serrated side for greater functionality including course and fine cutting or sawing with the blade side being used primarily for cutting and slicing. Hidden under the handle cap is a Compass and survival kit that contains the essentials you may need out in the wilderness including a set of stick matches, and fishing hook with string. SE survival knife is stainless steel and comes with a sheath to carry on your belt. Our survival knife is a great knife to have for multiple uses for your outdoor hunting, camping, fishing or any outdoor outing Adventure. 8" survival stainless steel knife is great for outdoor activities and outings Compass in handle cap survival kit included in the handle light weight allowing for easy handling double serrated for both course and fine cutting or sawing overall length: 8" warning: state and local laws may prohibit sale of this item. Please check your state and local government Regulations.
Warning:
keep out of reach from children. Handle with care, blade is sharp. Not a toy. SE is committed to providing the customer with the best possible source for value. You will enjoy the quality, function and usefulness our
8" survival knife
stainless steel 3mm thick 4-3/4" blade Compass & survival kit Nylon pouch has to offer.
Important: avoid getting counterfeit items. Genuine SE products come with our SE logo on the packaging. SE is a registered trademark protected by us trademark law.
Product Features
Entire knife is made of durable light weight stainless steel
Dimensions: overall 8", blade: 4-3/4", blade thickness: 3mm, handle: 3-1/4"
Storage compartment that contains survival kit