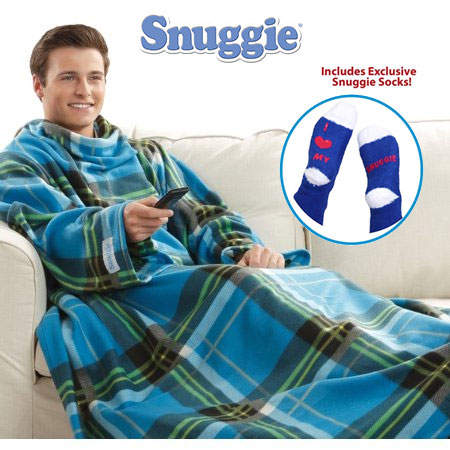 Snuggie The Original Blanket With Sleeves - BONUS- Includes FREE Ultra Cozy Snuggie Socks! You're getting a GREAT deal on this because it comes in a random pattern (Nothing gender specific) - $27 on amazon and still incredibly popular and cozy! SHIPS FREE!
These
Snuggies
, the original blanket with sleeves, come to you in assorted patterns and colors (at an amazing price!) and includes
FREE Snuggie Socks!.
SNUGGIE blanket
is super soft with sleeves. This cozy blanket will keep you warm from head to toe, allowing you to read, eat, use the remote, talk on the phone, or work on your laptop in complete comfort. Relax on the couch or in your room, bring it in the car, or take it with you outdoors!
Product Features
The Original Snuggie with free Snuggie Socks included
Comes in assorted styles and colors
The Blanket that has Sleeves! Complete Freedom of Movement!
Does not slip and slide like a regular blanket and keeps you warm from head to toe.
Super-Soft Fleece with pockets!
One Size fits all Adults! (71 x54 inches)
Keeps you Warm & & Your Hands-Free!
SNUGGIE blanket is super soft with sleeves. This cozy blanket will keep you warm from head to toe, allowing you to read, eat, use the remote, talk on the phone, or work on your laptop in complete comfort. Relax on the couch or in your room, bring it in the car, or take it with you outdoors!
SUPER-SOFT FLEECE with oversized sleeves so you can you move your arms and hands but still be wrapped in warmth. One size fits most adults, so you can stay warm from head to toe no more cold feet. Snuggie does not slip & slide like a regular blanket.
KEEPS YOU WARM & YOUR HANDS FREE it's the blanket that has sleeves & pockets! Snuggie is 71" x 54" which means it is long enough to wrap around your legs and feet while lounging but leaves your arms free to move about. BONUS WARM &
COZY SNUGGIE SOCKS INCLUDED!
CARE Machine Washable