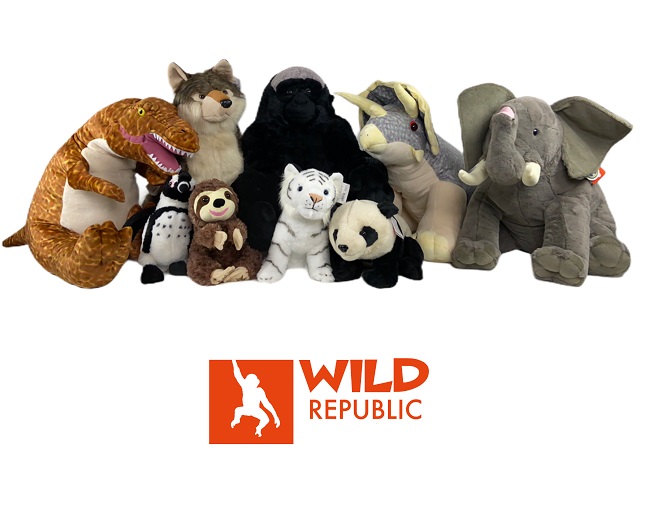 SECRET DEAL: These are $25 - $114.95 in stores and very limited amounts available of each animal! - Wild Republic Plush Animal Collection! Choose from: White Tiger, Panda, Penguin, Sing and Play Sloth, HUGE Silverback Gorilla, HUGE Triceratops, HUGE T-Rex OR HUGE African Elephant - Standard are $9.99, Sing & Play Sloth is $12.98 and HUGE Ones are $34.99 - $1.99 shipping, but order 4 or more and SHIPPING IS FREE, and yes you can mix styles to get free shipping! VERY nice gift! SHIPS IMMEDIATELY!
Stuffed animals
are the perfect gift to get any animal lover in your life and is great for people of any age. It is surface washable so you will be able to clean up any mess that comes its way. Take a trip to the wild side and don't miss out on getting your very own zoo animal plush white Tiger.
Wild Republic
has been developing plush animals and educational toys for kids of all ages since 1979, With a specialization in realistic stuffed animals.
Small White Tiger Plush 12 in
Small Panda Plush, stuffed animal, plush toy, gifts for children, bear plush, traditional, 15.0 in
Small Black Footed Penguin Plush 12 in
Small Sloth 10 in
Large Wolf 30 in
Large Gorilla Plush 30 in
Large Triceratops 30 in
Large T-Rex 24 in
Large African Elephant Plush 24 in
Perfect for hugging
High quality fabrics
Realistic design and coloring
Perfect for display or play
These traditional plush collections are perfect if you need children's gifts, toddler toys, or bedroom decor.