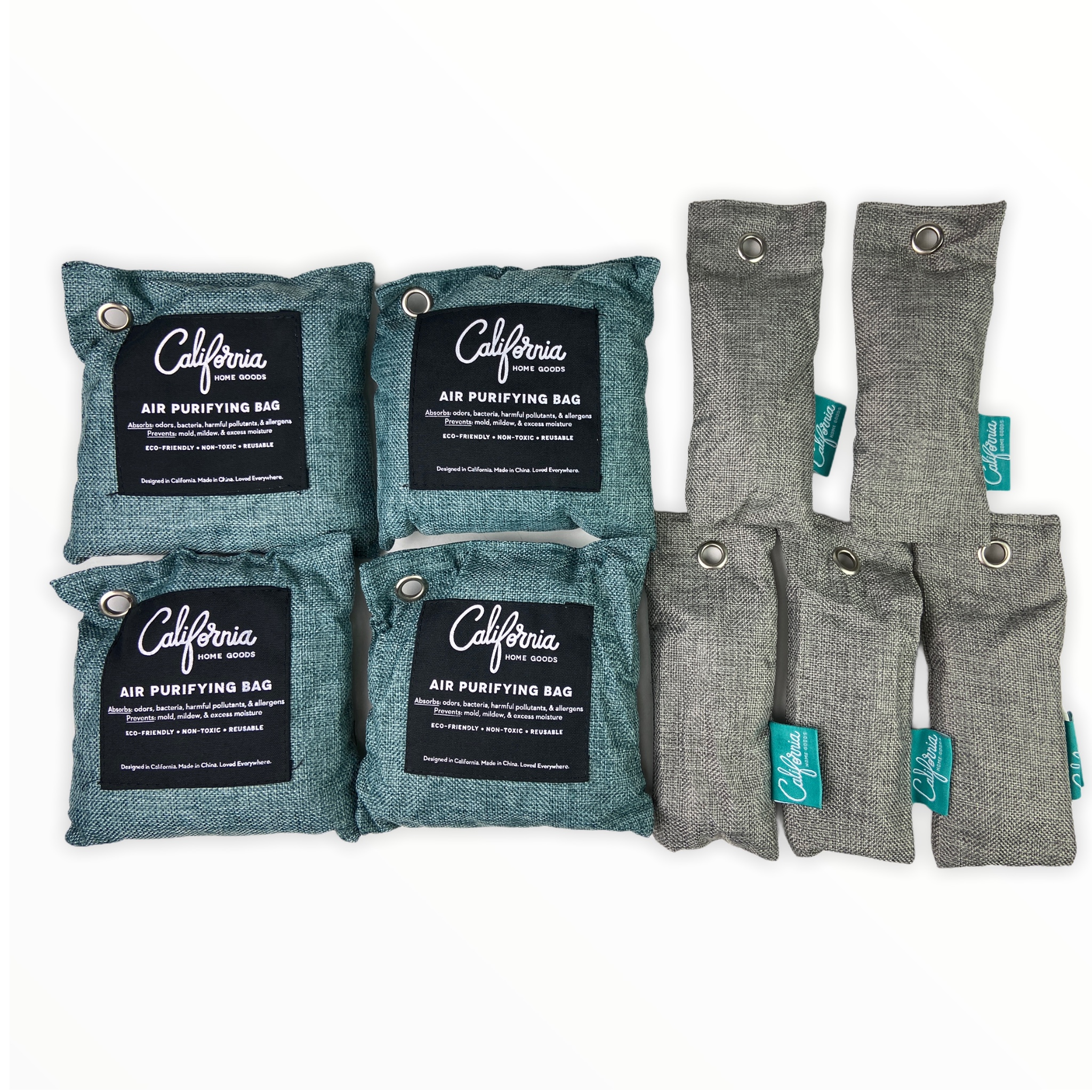 9 Pack of Bamboo Charcoal Air Purifying Bags by California Home Goods - 4 Large Size and 5 Small Size - Purifies the air by trapping odor, mildew, and moisture. Remember, because it uses charcoal, it's ELIMINATING the odor, not just covering it up. - Great for use inside your home, car, shoes and even your gym bag! These were $18 for FIVE on HSN, but you're getting NINE for $14.99! - Order 2 or more sets and SHIPPING IS FREE!
I see a lot of positive ratings for products like these. What do you think?
Our activated bamboo charcoal carbon adsorption capacity is three times than ordinary carbon, as we added a secondary high-temperature activation process, makes bamboo charcoal bags have high specific surface area and activity to quickly eliminate the odor and excess moisture. Charcoal odor eliminator truly absorb bad odors naturally not covering the odor with additives.
According to the degree of smell, the amount of air freshener bags can be appropriately increased to speed up the adsorption rate and quickly eliminate odor and smoke. For example, the adsorption rate of 200 grams activated bamboo charcoal is four times faster than 50 grams. We have different packs of air purifying bags to meet all your needs for purifying.
We have three sizes of nature fresh air purifier bags can conveniently put in the place where the odor is and comprehensively remove the odor problem in your life. Perfect as shoe odor eliminator, car air purifier and basement odor eliminator. Meanwhile, the air purifying bag stop odor and damp by absorbing excess moisture, convenient natural odor eliminator for daily use to maintain a fresh environment.
Charcoal air freshener has an adsorption circle around itself, and the adsorption capacity will decrease by distance. So place charcoal bags in different directions can expand the nature adsorption range in large space and achieve rapid purification. Perfect as pet odor eliminator, basement odor eliminator, smoke odor eliminator. We recommend at least 2-4 packs of 150g or 200g bamboo odor remover bags to eliminate odor in the cars, closet, bathrooms, etc.
Bamboo activated charcoal is natural deodorant without fragrance, very healthy for cats, dog and baby. They are with nature flax packing are breathable will long-last up to 2 years, just reactivate them under the sunlight for 2 hours every month and they will work like new again. We are confident with our premium bamboo bags and offer 30 days no question asked money-back guarantee if you were not satisfied with the best odor eliminator bulk.