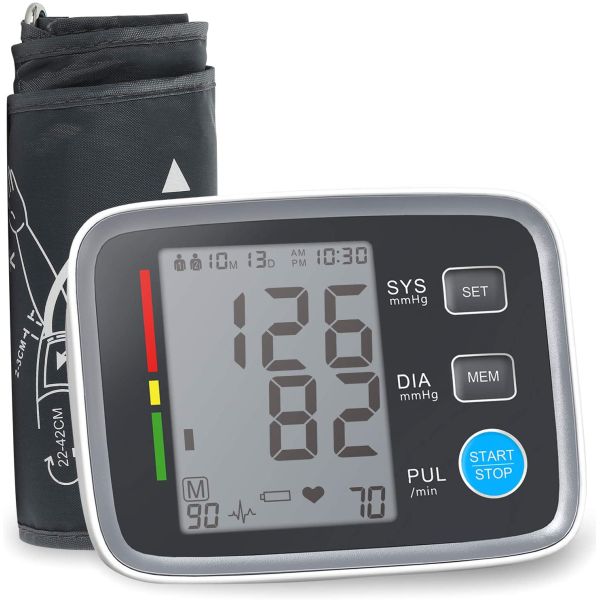 Automatic Blood Pressure Monitor - SHIPS FREE!
Grab yourself a blood pressure monitor while it is on sale!
Large Cuff Blood Pressure Monitor with Upper Arm 21 inch long Cuff, Automatic BP Cuff. Automatic measure blood pressure at home OR clinical use. Older can use it conveniently.
Note: Fit for upper arm 22-42cm/ 8.7-16.5 inch circumference
How to measure your blood pressure:
Connect the cuff tube into left of the device hole; Following the manual to fit the cuff. Press the START/STOP button to begin the blood pressure measure
Normal blood pressure as following (Reference):
Systolic blood pressure: 126 Diastolic blood pressure:82 Pulse:70
Users setting:
Press the SET button, then press the MEM button to choose which user you like record. Finally return to press the SET button to confirm the one you need. Continue to Press the SET button is to set the year, month, day, time. SET means choose. MEM means adjust.
How to find the 180 Memory Records from Blood Pressure Monitor?
Directly press the MEM button, continue to press will show the next one Record.
Clear the Memory:
Press the SET button, after 6 times, the CL appears, press the START/STOP button, press the MEM button that you can see the "no" means no memory in store.
Package :
1* Blood Pressure Monitor
1* Adjustable 21 inch Cuff with tube
1* Pocket (convenient to outdoor use)
4* Batteries (included)
Two Power Options
AC Power Adapter ( not included) or 4*AA batteries (included).
Upper Arm Blood Pressure Monitor can be connected the AC Power Adapter(Not included)use if the Batteries was run out.
TIP:
Check out these
health freebies
while you are here and save some money!