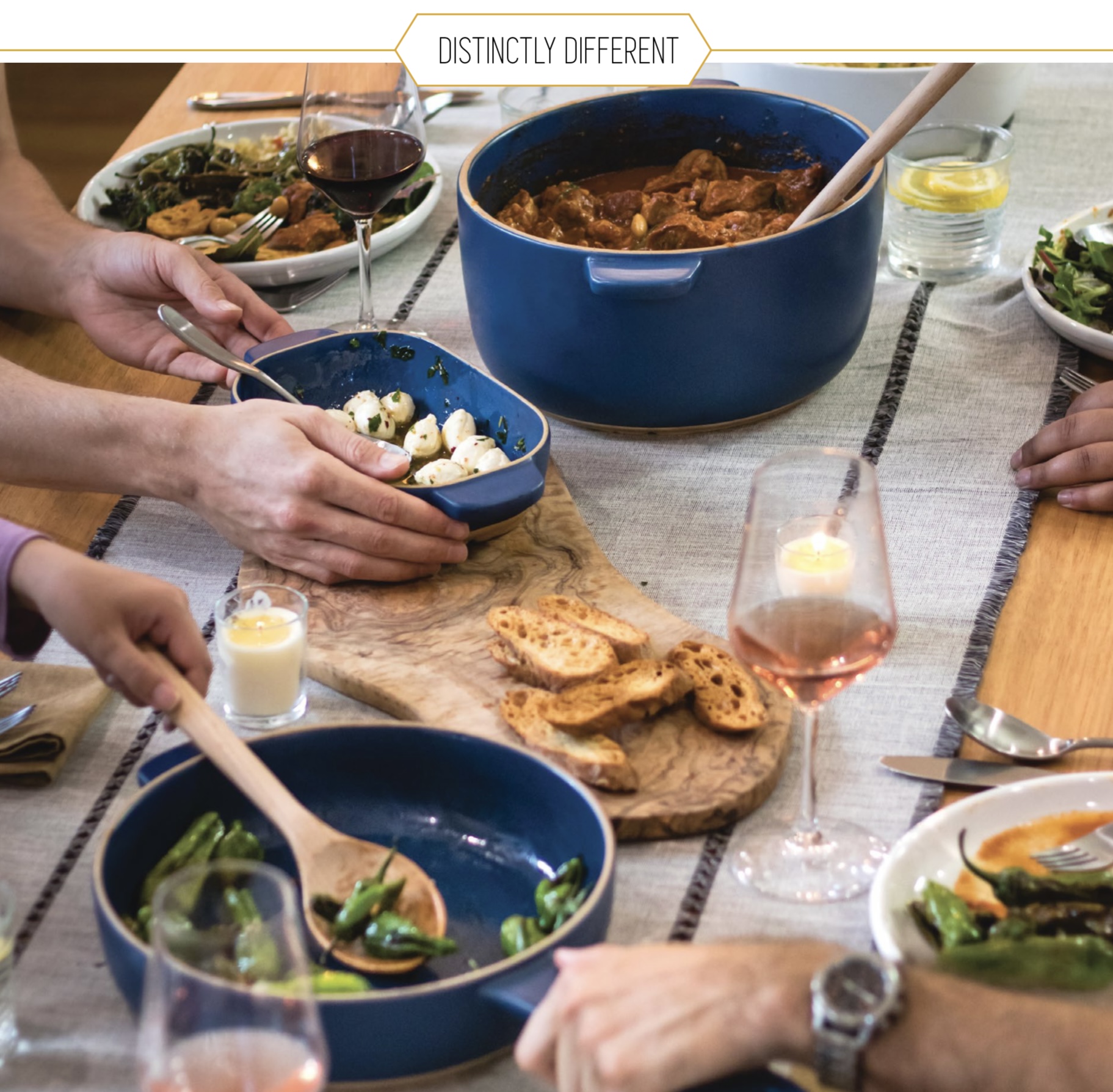 De la Terre Premium Ceramic Cookware Collection - Available in many sizes - These are INCREDIBLE! Use literally any way you want! Oven, stove, microwave and grill safe! Dishwasher safe, freezer safe, scratch resistant and naturally non-stick! Oh, and they're beautiful! You'd pay $40 and up at William Sonoma, but starting at just $19.99 each from us! See the video below to see a little more details on each one. - SHIPS FREE!
Take advantage of this cookware on sale!
Introducing De la Terre™ (of the earth in French), the only ceramic cookware line designed for performance in the oven, microwave, on the stove, and even on the grill! Our thermal-shock-resistant cookware is lighter in weight than cast iron, yet still durable enough to move from stovetop to freezer to dishwasher with ease. Ceramic cookware that pairs a classically beautiful aesthetic with unmatched versatility and convenience for modern living.
SEARING
Confidently sear meat to lock in flavor before braising, then move same dish to the oven to streamline cooking.
PREP, CLEAN UP & STORAGE
Store food in fridge or freezer before or after cooking. Safely microwave leftovers, then dish can go right into the dishwasher.
FREEZER TO OVEN FLEXIBILITY
Prepare dishes in advance, and store in freezer until ready, then pop in oven to make dinner a cinch!
SAFE FOR ALL FOODS
Naturally nonstick without Teflon® or PTFE and safe for all types of food, regardless of acidity levels.
LIGHTWEIGHT AND EASY TO HANDLE
43% lighter than cast iron, heats up 4% faster, and retains heat 19% longer.
SMALL DUTCH OVEN
From chili and soups to baked dips, our small dutch oven is the perfect choice for more compact dishes.
8 in (20 cm) – 2 qt (2.1 L)
SMALL SAUTÉ PAN
Our small sauté pan is perfect for egg dishes, grilled sandwiches, and sautéed vegetables.
8 in (20 cm)
LARGE DUTCH OVEN
From hearty stews and braised meats to rustic bread, our large dutch oven lends itself to earthy, gather-around-the-table meals
11 in (28 cm) – 6 qt (5.9 L)
LARGE SAUTÉ PAN
Our large skillet is the perfect choice for main dishes that start on the stovetop and end in the oven, such as seared steaks and frittatas.
11 in (28 cm)
SMALL BAKING DISH
Our small baking dish is perfect for baked pastas, polenta, and desserts.
6 in x 9 in (15 cm x 23 cm)
OVAL BAKING DISH
Our classic oval baking dish is the ideal choice for fruit cobblers, gratins, and casseroles
12 in x 7 in (30.5 cm x 17.7 cm)
LARGE BAKING DISH
Our large baking dish is perfectly suited to casseroles, roasted meats, and desserts.
9 in x 12 in (23 cm x 30.5 cm)
SQUARE BAKING DISH
Our square baking dish is ideal for bubbling lasagna, roasted vegetables, and brownies.
9 in x 9 in (23 in x 23 cm)
Did you find this post helpful? If so, it would be great if you could show some support by following

Closet of Free Samples on TikTok

(as well as my other social media accounts @closetsamples) and by checking out

my Etsy shop

! As a small creator, all your support makes a difference! Even a simple share of this post to your friends helps! Thanks so much!