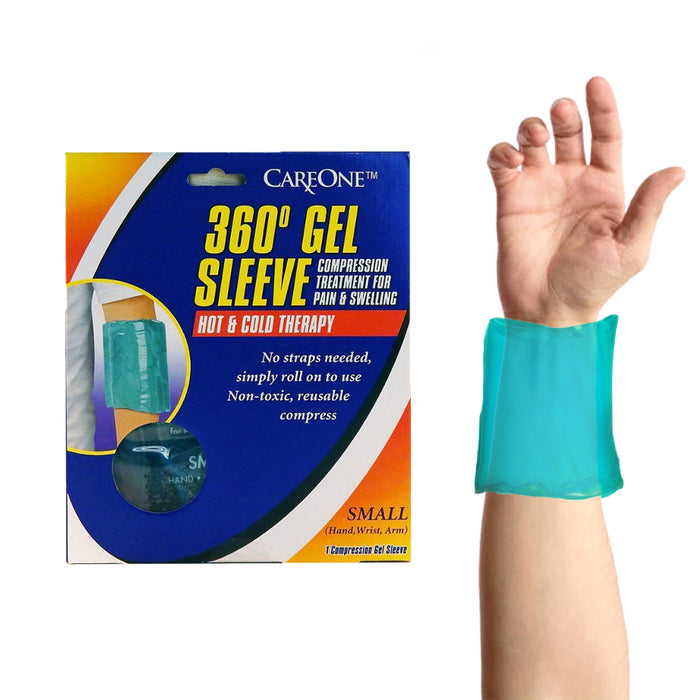 Are you fed up with annoying hand, wrist, or arm pain? Whether it's due to a minor injury, everyday strain, or bothersome swelling, finding swift and effective relief is crucial. Well, consider your search over because we've uncovered a game-changing solution – the
360° Gel Sleeve Hot & Cold Compress Therapy
. And here's the thrilling part: It's currently available at an incredible
50% discount
!
Your Ultimate Pain Relief Companion
This innovative gel sleeve
is engineered to provide compression treatment for minor pain and swelling in your hand, wrist, or arm. Whether you're recuperating from a workout, dealing with a minor injury, or just need relief from daily discomfort, this versatile compress has got you covered.
No More Hassles with Straps
Say goodbye to the frustration of traditional wraps or compressors with intricate straps. This small-sized marvel is incredibly user-friendly – it easily rolls right on. No more struggling with fastenings or grappling with straps. It epitomizes convenience and simplicity.
Hot or Cold, the Choice Is Yours
What sets
this gel sleeve
apart is its ability to be utilized for both hot and cold therapy. When heated, it delivers soothing warmth to relax tight muscles and enhance circulation. Alternatively, when cooled, it aids in reducing inflammation and swelling. It's like having two treatments in one!
Bid Farewell to Discomfort
Living with hand, wrist, or arm pain can be profoundly frustrating and restrictive. It curbs your daily activities and puts a damper on your overall well-being. With the 360° Gel Sleeve, you can now regain command of your pain management. Whether it's sore muscles, achy joints, or minor injuries, this sleeve offers relief precisely when you need it.
Affordable Pain Relief
Efficient pain relief solutions often come with hefty price tags. However, we firmly believe that everyone should have access to budget-friendly options that genuinely work. That's why we're thrilled to offer the
360° Gel Sleeve at an unbeatable price of just $7.00
– that's 50% off its regular price of $14.00. Top-notch pain relief doesn't need to break the bank.
How to Secure Yours
Acquiring your very own 360° Gel Sleeve Hot & Cold Compress Therapy is a piece of cake. Simply head over to our website and place your order today for the incredible price of $7.00. With just a few clicks, you'll be on your way to experiencing the relief you've been longing for.
Don't let hand, wrist, or arm pain hold you back any longer. Seize this incredible limited-time opportunity and make the 360° Gel Sleeve your trusted partner in pain relief. Bid farewell to discomfort and embrace a happier, pain-free you.
Order now
and unlock the difference for yourself!
🌟 If you like Amazon deals & coupon codes join my Telegram Channel (It's FREE!)! 👉 Sign up here!
═════════════════════════════════
PROMOTE YOUR BRAND WITH US!
═════════════════════════════════
Want to showcase your product to the Closet of Free Samples audience? Then check out my available advertising options and email me at

This email address is being protected from spambots. You need JavaScript enabled to view it.

to discuss!
═════════════════════════════════
FOLLOW CFS ON SOCIAL MEDIA
═════════════════════════════════