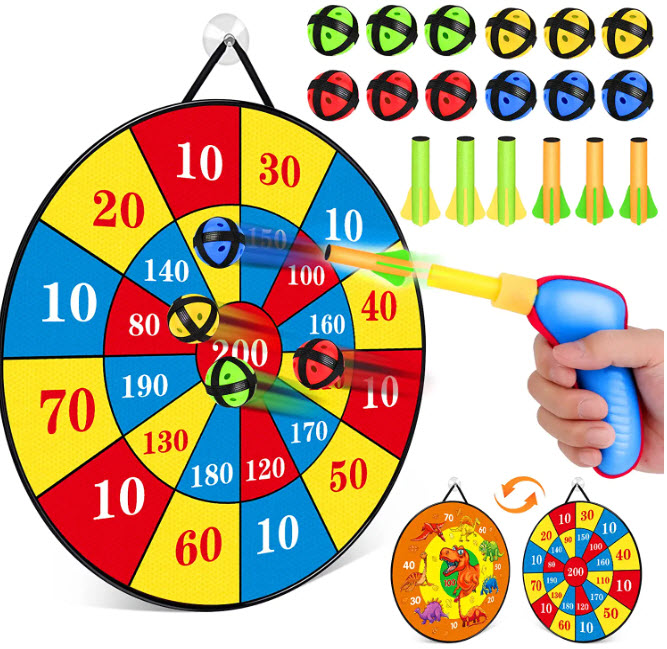 This is fun for the family!
26" SUPERSIZE DARTBOARD--- Double sided dinosaur themed design darts board set contains 12 sticky balls & 1 Toy Guns & 6 Dart Bullets,Dart board's diameter is 26 inches, large size means higher hit rates and more fun for kids/ beginners. In addition to the throwing game, the shooting game is also added, by pressing the handle of the gun, a "bang" sound,the bullets darts shoot the dart board,hit the target.
IMPROVE MATH SKILL& HAND-EYE COORDINATION& COLOR RECOGNITION & IMPROVE ATTENTION LEVELS--- In addition to being fun, the dart board game improves concentration levels, hand-eye coordination and math skills. It is great for improving color recognition skills. Use it for math games with students and the point system makes it challenging and fun enough to play. Helps you unwind from a busy day and is also a great social game for friends and family. The best funny toys for kids.
FOLDABLE DESIGN | SAFE MATERIAL | 2 x EXTRA HOOK--- All accessories are free of sharp parts, safe for kids.The dart board kit for kids is feature a foldable and portable design that can be enjoyed even when traveling or camping, easy to pop up and fold. The toy dart board can be easily installed indoors or outdoors. Simply hang the board and you're ready to enjoy the game. Enough accessories for friends to play together. Stress relief toy for kids, adults.
ENJOY DART BOARD GAME INDOOR/ OUTDOOR/ SCHOOL, FOR ALL AGE--- Play this fun dart games anytime, anywhere. Enjoy happy hour with friends/students/parents in the living room, lawn, backyard or anywhere in or out of the Christmas party, or every day. Great for kids/boys/girls/adults birthday party, family, class parties, indoor outdoor events. Not just for kids, the whole family can enjoy happy hour. Helps to promote parent-child relationship. This is a fun toy for all ages.
KEEP YOUR CHILDREN AWAY FROM ELECTRONIC PRODUCTS, THE BEST GIFT CHOICE--- Best gift choice for kids boys girls toddlers teens, also can be used as girl friend/ boy friend gifts.Use this at home as a prize for good behavior by your child.Best toy gifts for 3 4 5 6 7 8 9 10 11 12 year old boys kids girls. Give them a try, your baby girls boys will be away from electronic products, join this fun game for hours, best for their health.
BONUS:
Check out these other
games on sale
while you are here and save some money!
═════════════════════════════════
PROMOTE YOUR BRAND WITH US!
═════════════════════════════════
Want to showcase your product to the Closet of Free Samples audience? Then check out my available advertising options and email me at This email address is being protected from spambots. You need JavaScript enabled to view it. to discuss!
═════════════════════════════════
FOLLOW CFS ON SOCIAL MEDIA
═════════════════════════════════