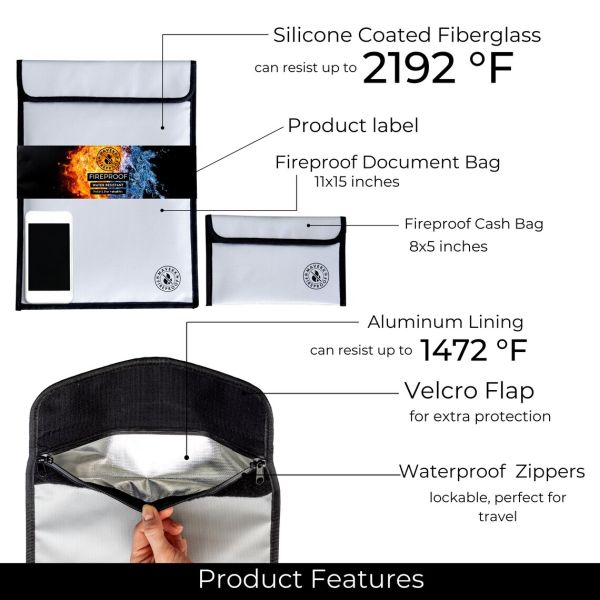 Grab one of these to keep your important documents!
Mavekk Fireproof Document Bag Set (2-Pack) - Keep your life's important documents always SAFE with CONFIDENCE.
MAVEKK is more than just a document bag. It offers you confidence that your life's important documents are always safe from FIRE and WATER. Our fireproof bags are a great alternative to the bulky and heavy safe. They are portable, easy to grab in case of an emergency. Keep them under your bed, drawers, and even inside your everyday bag! Use them during travel or to weatherproof your valuables.
Perfect fireproof container, protector, or organizer for:
Birth and marriage certificates
Passports
Irreplaceable photos
Property documents
Wills and other legal documents
Cash and jewelry
Product Features
3 Layers of High-Quality Fireproof Materials
These fireproof bags
are made of three layers of fireproof materials: silicone coating, fiberglass cloth, and aluminum lining. The bags can withstand up to 2000 Fahrenheit and 500C for an extended period.
Enhanced Waterproof Performance
We take pride in our product's waterproof performance.
Made of silicone-covered fiberglass which is waterproof
Have waterproof zippers to better protect your documents from water
Lockable zippers
STURDY VELCRO FLAP & FOLDABLE
With a strong Velcro flap for additional protection
The document bag is foldable
2 BAGS IN 1 PACK
The pack comes with two bags: a document bag (11x15 inches) and a cash bag / wallet (5.5 x8.75 inches).
🌟 If you like Amazon deals & coupon codes join my Telegram Channel (It's FREE!)! 👉 Sign up here!
═════════════════════════════════
PROMOTE YOUR BRAND WITH US!
═════════════════════════════════
Want to showcase your product to the Closet of Free Samples audience? Then check out my available advertising options and email me at

This email address is being protected from spambots. You need JavaScript enabled to view it.

to discuss!
═════════════════════════════════
FOLLOW CFS ON SOCIAL MEDIA
═════════════════════════════════