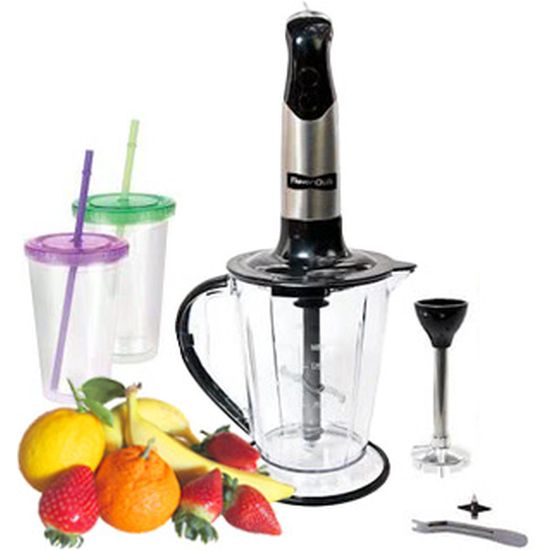 Get the most out of your meal with this 12pc blender kit! Whether you're blending your favorite ingredients for meal prep, or making a healthy smoothie, you've got all the tools you need in one powerful unit. Unlike juicers or weak blenders, this system effortlessly breaks down your food to give you all the original nutrients.
The heart of the kit is the 2-speed 200W motor. It snaps onto a long spindle to create a hand/immersion blender that you can use to blend up soups, sauces, or batters. The best part is you can mix everything directly in a hot pot, mixing bowl, or pitcher.
It also includes a 1.5L/50oz blender jug with non-slip base. The 4-part Vortex blade makes quick work of smoothies, juices, pesto, ice, and even meat.
Your kit also includes 2 to-go cups, lids, and washable straws to get started drinking your smoothies right away.
Product Features
Kit Includes:
- 2-Speed 200W Motor with AC Cord
- 7in Hand Blender Shaft with Blade Tool
- 1.5L/50oz Blender Jug
- 4-Part Vortex Blade
- Locking Blender Lid
- Storage Lid
- 2 To-Go Cups, 2 Lids, 2 Straws
- Recipe Book and Healthy Living Guide
Features & Benefits:
- 2 Blending Attachments for Any Job
- Most Pieces are Dishwasher Safe
- Cooking Club of America Recommended
- Make Healthy Smoothies with All The Nutrients
- Includes Bonus Travel Cups
- 17,000 RPM Motor
- Official Flavorquik Brand