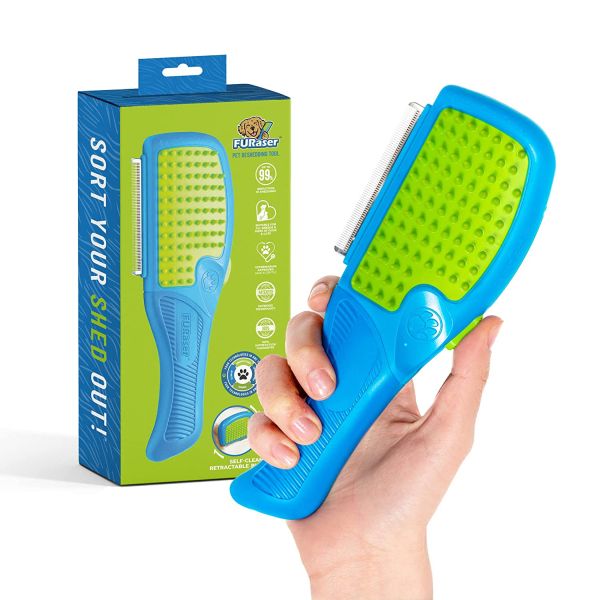 If you have furry pets, this is a must!
FURASER PET DESHEDDING TOOL: FURaser is a pet de-shedding tool to target both the under-coat and top-coat resulting in up to 99% reduction in shedding. It combines four technologies in one tool – soft silicone bristles for top-coat de-shed and pet massage, retractable de-shedding blade – for under-coat de-shed, microfiber pad –ideal for clean-ups
TOP COAT DE-SHEDDING: The FURaser was designed to help you quickly and effectively groom your furry friend. Its soft 80+ silicone micro bristles will remove all loose hair and dander from your pet's top-coat
UNDERCOAT DE-SHEDDING: The undercoat de-shedding blade (stainless steel) on your FURaser safely and painlessly removes all the dead and loose hair from your pet's undercoat. Rounded tips make it safe and gentle on your pet. 100% Veterinarian approved
FEATURES: The FURaser replaces more than 6 grooming tools in one and allows you to quickly and easily remove all loose furand dander from your pet's under-coat and top-coat. De-shed your pets and and keeps your clothes fur free! It also turns de-shedding into a luxurious massage that will make your fur-friend happier than ever
MORE EFFECTIVE: With the combined features and technologies, FURaser is 50% more effective at de-shedding compared to other products on the market. Reduce shedding up to 99%.FURaser also comes with a special microfiber brush that picks up pet hair on any fabric and surface quickly and effectively. It works on clothing or furniture so you don't have to worry about fur getting stuck where it doesn't belong.
Package DIMS (or item dim if there is no packaging): 10.25x5x1.5"
TONS of Limited-Time EXCLUSIVE deals have been posted to my Telegram channel! These deals include limited-time offers, coupon codes, and Amazon deals! It's FREE to join so you don't miss out! 👉 Sign up here!
═════════════════════════════════
PROMOTE YOUR BRAND WITH US!
═════════════════════════════════
Want to showcase your product to the Closet of Free Samples audience? Then check out my available advertising options and email me at

This email address is being protected from spambots. You need JavaScript enabled to view it.

to discuss!
═════════════════════════════════
FOLLOW CFS ON SOCIAL MEDIA
═════════════════════════════════