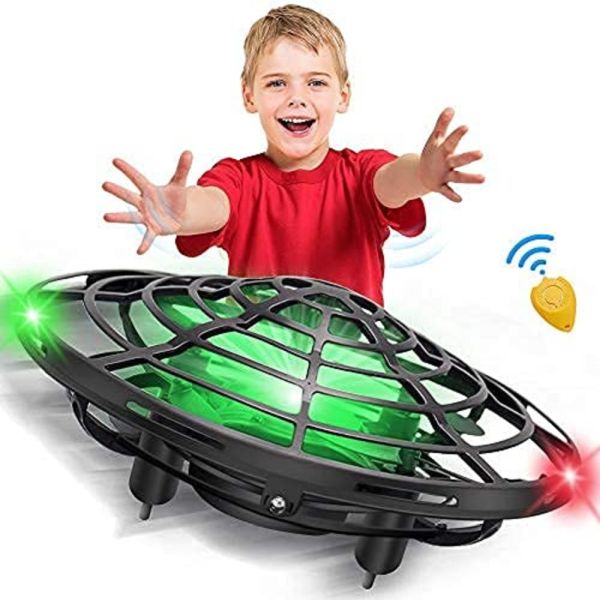 This is a fun gift idea!
The latest infrared sensor hover technology upgraded in November: the induction sensor is at the bottom and around it, can sensitive to detects nearby objects and is programmed moves away from them. Smart hand-sensing for 360° rotating flying: start the aircraft, gently throw to make it fly, control it with your hands to make it flying in multiple directions. Play solo or multiply your fun by passing it with hand between family and friends! Absolute safety and rechargeable UFO flying toys: the propeller was encased by flexible mesh barrier, no touching needed, protect childrens eyes and skin from damage. No need to buy a battery, This Flying toys is USB safe charging for endless fun! Durable material & anti-resistance design: This Flying UFO adoptes flexible ABS material to improve resistantance of crashing, designed for motion-sensitive, leave the obstacle before crashing to it. Led power-on protection aircraft: turn on the switch, LED lights make it shine in the night sky. The UFO flying ball waiting for fly until you gently throw it to air to ensure safety.
TONS of Limited-Time EXCLUSIVE deals have been posted to my Telegram channel! These deals include limited-time offers, coupon codes, and Amazon deals! It's FREE to join so you don't miss out! 👉 Sign up here!
═════════════════════════════════
PROMOTE YOUR BRAND WITH US!
═════════════════════════════════
Want to showcase your product to the Closet of Free Samples audience? Then check out my available advertising options and email me at

This email address is being protected from spambots. You need JavaScript enabled to view it.

to discuss!
═════════════════════════════════
FOLLOW CFS ON SOCIAL MEDIA
═════════════════════════════════