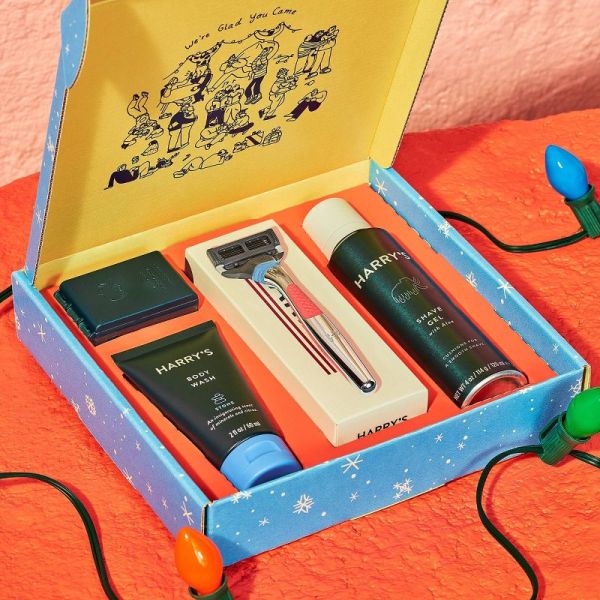 Don't miss out on this deal!
The Harry's Holiday Men's Shaving Gift Set packs everything you need for the men's shaving experience into a festive holiday gift box. Each shaving set for men with body wash includes a limited-edition Ribbon Red and Chrome-polished razor handle, three Harry's razor blade cartridges, Shave Gel with aloe (4 oz), and Body Wash (2 fl oz) in Stone, an invigorating scent of minerals and citrus. With thoughtfully designed and honestly priced essentials for your daily grooming routine, this men's razor gift set is just what you need to get ready for a big holiday bash - or a low-key date night.
About Harry's
Harry's started in 2013. Our founders, Jeff and Andy, were tired of overpaying for shaving razors, so they launched Harry's to offer quality razors for men at honest prices. Since then, we've evolved into a men's grooming company that makes men's razors and blades and a variety of men's grooming products, including shaving cream, Body Wash and Bar Soap for men, and men's hair-styling and hair care products. Rather than overdesign or overcharge, we prioritize quality craftsmanship, simple design, and fair value for men's grooming essentials. Through our social mission, we also give back: We believe in better access to mental health care, so we set aside 1% of our sales to support nonprofits that provide these services to men in need.
Harry's Gift Set includes Men's Razor Handle, 3 Razor Blade Cartridges, Men's Shave Gel, and Men's Body Wash in Stone
Harry's Winston Razor Handle in limited-edition holiday Ribbon Red and chrome polish
Harry's razor cartridge refills each have five sharp, German-engineered razor blades for men
Harry's Shave Gel for Men cushions skin for a comfortable shave
Harry's Body Wash for Men leaves skin feeling soft and smooth
A great way to try Harry's shaving products and body wash
Makes a perfect stocking stuffer — Packed in a festive box featuring holiday scenes
Harry's Holiday Skincare Gift Set also available
Hair Type: All Hair Types
Number of Pieces: 6
Includes: Shave Gel, Replacement Blade, After Shave Care, Razor
Did you find this post helpful? If so, it would be great if you could show some support by following

Closet of Free Samples on TikTok

(as well as my other social media accounts @closetsamples) and by checking out

my Etsy shop

! As a small creator, all your support makes a difference! Even a simple share of this post to your friends helps! Thanks so much!